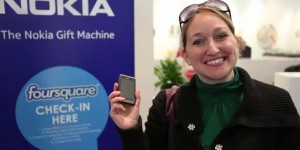 Oh man! This could be the coolest latest Nokia invention I've ever seen in my life…an awesome Nokia Gift Machine!
The Nokia Gift Machine was invented by these brilliant guys from Nokia for the Social Media Week event, and we really salute you for inventing a new breed of vending machine guys. We hope we have these in our places too.
What made the machine cool is that it dispenses not foods or sodas but instead some special gifts like candies…and smartphones. Yes, smartphones, brand new Nokia! And getting one gift is very simple, just check in to the place where the Nokia Gift Machine is using Foursquare in your phone and then you're good to go for receiving a special gift from this machine. Lovely, isn't it?
Check out the video below: