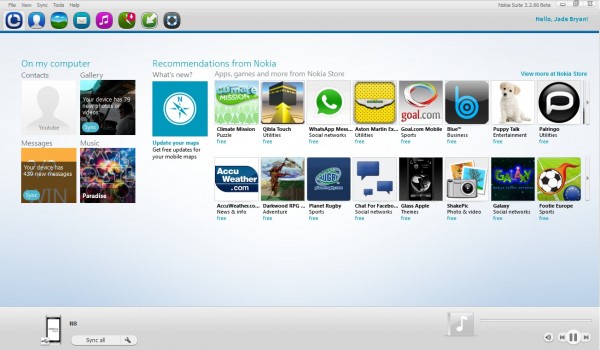 Genius guys from Nokia Beta Labs have released another Beta program, this time for our PC. The new Nokia Suite 3.2.66 (update just released yesterday) will be the only one future candidate to replace the current commercial Nokia Ovi Suite. Notice that Nokia removes Ovi on the title program, thus, making Nokia brand to the spotlight. Not only Nokia rebranding is brought by this beta app for PC, of course, new experience and improvements too.
I've been using it for few days already and I'm loving its new interface. Cleaner and more intuitive. Symbian Anna icons align horizontally on top that serves as your navigation buttons to each feature from Home to Music Store. Not only the nav bar has been updated but also the interface of each feature. Like the Maps feature which got a refresh and simple layout. The face lift that Nokia did on their PC Suite will considerably contribute to new experience for users.
On the performance side, Nokia Suite really improved. Bugs and issues on the past version were greatly reduced. Accessing features, transferring media files and navigating to settings are now faster. Both Maps and Software Update are noticeably have improved. The rest of improvements on the performance that I forgot to mention will be posted once the Beta trial has ended.
So far, there are no big issues that are so bothering. My only wish is that to have shuffle and repeat features on the Music Player of Nokia Suite. Overall, whole new UI and performance is a great achievement for the team.