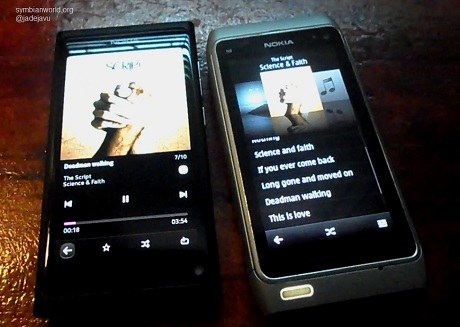 I've shot a video comparison (as I always do) of Nokia N9 vs Nokia N8 for the loud speaker and Dolby Headphone test. This test is a pure 3rd end comparison where the loud speakers on each devices are on the highlight. The same on Dolby Headphone test which I demoed if it has really enhanced audio output when I'm on the headset.
For the loudspeaker test, the Nokia N8 is bit louder compare on the Nokia N9 but not that big. The problem with Nokia N8 is that its speaker grill is obstructed when you put it on table with screen facing you. Unlike on Nokia N9, it is located in the bottom which is suitable for many positions.
With the Dolby Headphone ON, bass and treble are noticeably have increased making the headphone vibrates a little. I even lower the volume at two steps down when it's on. I think the Dolby Headphone effect is both software and hardware integrated on Nokia N9, software for the audio processing while Dolby Headphone for the hardware. Music is richer (louder and clearer, more bass & treble) on Nokia N9 with headphone plugged in and Dolby Headphone on compare to Nokia N8 with headphone only.