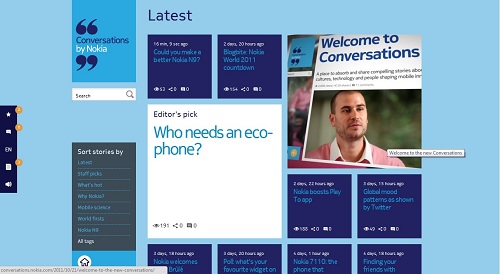 Nokia's very own main blog, conversations.nokia.com, turned into metro style site before the Nokia World kicks off this Wednesday in London. The new site features a rich and stunning layout of content. It is designed to suit the modern thirst of everyone. The new metro style looks very similar to what we've seen on WP7 devices and even on the Windows 8 platform -so metro-ish.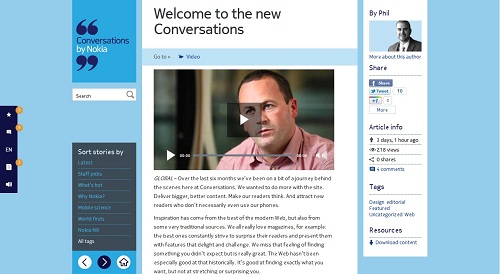 Main home page highlights the latest story in the house and in the bottom left side there is a hover board for you to explore other stories that are categorized in many forms. On the left part there is also a static board for which the other highlights of the blog rest. Both the static story and highlights board can be seen in all pages and post. Once you settled on individual post or article you would then see on the right side the new author info and social media stats. More of the new Conversations:
What do you say about the new site? On my first landing on the site, I feel that I was lost but of course the Metro Style is so appealing that I experimented on the different buttons there. Also at first the UI is very unfriendly to me, I don't like it because of the limited squarish space. But still I'm looking forward for getting used to it.