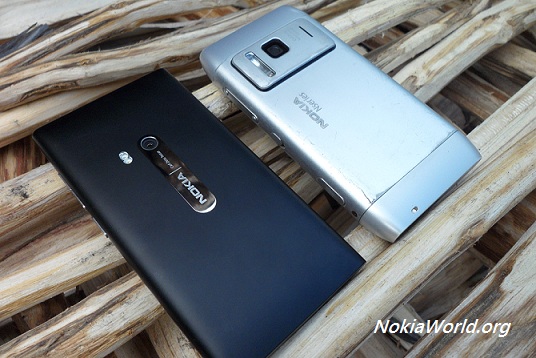 I've been using the Nokia N9 for two weeks already and I'm enjoying its camera through new interface and more of touch control experience. The Nokia N9 is packed with 8 MP AF Carl Zeiss optics and it is at 28mm wide-angle and with dual LED for both still and video light. Unlike the with FullFocus on other Nokia devices, N9 has Auto-Focus which it is necessary to take macro shots, which I do a lot. For the video, Nokia N9 captures HD or 720p at 30fps and it has continuous auto focus, you can also use track or manual focusing on subjects.
With these beefy camera feats of Nokia N9 mentioned above, it is still clear that Nokia N8 as a flagship cameraphone of Nokia is still unbeatable in imaging section. But of course, Nokia N9 camera has the kicks and punches to throw up when we battle it with other devices out there. For now, let's give you some Nokia N9 vs Nokia N8 still image comparison first.
Below is comparison of Nokia N9 vs Nokia N8 camera. It's a image-to-image view and you should just take note that the specs and feats of each camera differs, where Nokia N8 has more prowess over Nokia N9.
Notes: Most shots at 16:9 which uses 7MP for Nokia N9 (top) and 9MP for Nokia N8 (bottom). Most settings set to auto. You can see full image reso at my flickr.
Nokia N8
Nokia N9
Sensor
12 MP AF 4:3 @ 4000x3000px
9 MP 16:9 @ 4000x2248px
3MP and 1.3MP at 4:3
8.7 AF MP ~ 8 MP effective at 4:3 @ 3264x2448px
7.1 MP 16:9 @ 3552x2000px
6MP and 3MP at 16:9/4:3
Optics
Carl Zeiss
Carl Zeiss
Focal Length and Aperture
28mm – f/2.8
28mm – f/2.2
Flash/Video light
Xenon Flash for still
Dual LED for still and video
Video
720p at 30fps (Beta update)
720p at 30fps
Other features
Face detection, geotagging, photo editor
Face detection, geotagging, non-destructive photo editor
Setttings: Auto at 16:9. Nokia N8 seems to capture more light here.
Settings: Macro at 4:3 Nokia N9 and 16:9 Nokia N8. Both capture great and Nokia N9 has a flexible focusing advantage because you set focus points manually (touch to focus).

Settings: Auto at 16:9 for Nokia N9 and 4:3 for Nokia N8. Blue color of the cloudless sky is perfect for both. Cobbled street seems brighter on the Nokia N8. Model's face are well lit, thanks to the excellent Carl Zeiss optics in both.

Settings: Flash fired on both. Sorry for the vertical and horizontal aspect ratio because of the other person holding the N8 that time, mine was N9.

Settings: Macro on both. Nokia N9 first shot is bit colder with bluish detail. Nokia N8 has warmer detail. It means they used different white balance for this auto settings. On the second macro image, I like the Nokia N9 shot.

Looks like the Nokia N9 shots are bit colder and darker. I'm not a camera expert myself but I think even Nokia N9 has larger aperture of f/2.2 (lower number f divisor, more opening for light) against Nokia N8 of f/2.8 the thing is N8 picture element (pixel) is much larger thus we got bigger sensor size compared to standard P&S camera which is great.
Again Nokia N9 focusing is much better compare to Nokia N8. I missed to focus on the N8 due to limited distance and focusing areas. This time Nokia N9 did a good job at white balance.

More shots:

I think Nokia N9 performed well on this first part shootout. It just has some issue with white balancing when we use the auto settings. But this is quite tweakable on a software/firmware update for Nokia N9. And it is obvious that Nokia N9 has an advantage for focusing esp on close up mode and video.
So what do you think? Did Nokia N9 performed well too?
FLICKR Sets with full size images.