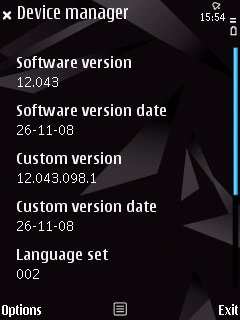 The Nokia N96, which was in my and Steve's eyes pretty buggy, just get a new Firmware version. Version 12.043 is available through the Nokia Software Updater or over-the-air. The size of the update is about 3MB over the air and about 120MB via the Nokia Software Updater. I've updated my N96 over the air which worked surprisingly well. After some minutes my N96 was updated and I could start enjoying my new N96. My first impressions are positive. Steve has made a changelog. I've also noticed these changes.
General operation is faster, smoother and with less glitches (obviously. This is patently mainly a fix-up update)
Improvements to camera operation (better focussing) and (pleasingly) to video capture quality, although it's still demonstrably not as good as video capture on the N95 and N82, for example.
Improved Wi-Fi performance. Connects faster, and Range Improved
However, not all things have been fixed and there are still some issues. Have you noticed more? If so, leave a comment.


Source: Allaboutsymbian