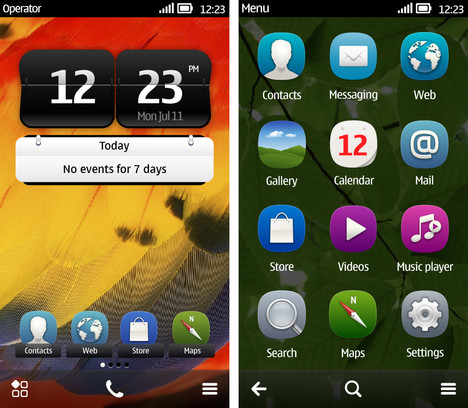 In my opinion the Nokia N8 is one of the best Symbian smartphones, and for that matter any make smartphones you can buy, it has the best camera-phone. And now this handset is about to get even better and many users were under the impression it would be by now. Most users included me were hoping it would be here by now and we would have it, but unfortunately it was not to be. With an update to Symbian Belle just around the corner now it has been confirmed it will be Q1 2012 we will soon be able to enjoy this great OS on our handsets, here are the top 10 reasons why Symbian Belle is better than Symbian Anna.
Nokia N8 Symbian Belle update incoming (OFFICIAL): Why its better
Great new look
With its striking new icons and bright and colourfully redesigned interface Symbian Belle is the best looking version of Symbian to date. Taking all that has made Symbian Anna such a great OS and then fine-tuning it to be better than ever on the Nokia N8, Belle looks amazing.
Glance-able design
By streamlining the interface and putting all your most important information within easy sight and reach, Nokia has made Symbian Belle fully glace-able. Letting you see and read everything you need in seconds by just glancing at your Nokia N8, the OS is easier to use than ever.
Faster navigation
With a great choice of new navigation tools at the bottom of the Symbian Belle interface, it's never been so easy to find your way around your Symbian smartphone. Offering faster and more intuitive control, whatever your needs and experience level, Symbian Belle works great on the Nokia N8.
More home screens
Symbian Belle doubles the amount of home screens you could previously use on your Nokia N8. Offering a choice of six home screens for you to customise, you can easily set up your phone exactly how you want it for faster and easier access to all the tools that matter most to you.
East access Widgets
Improving accessibility even further, Symbian Belle also lets you create easy one-tap widgets, which you can pin to your home screens for faster access to your favourite Symbian apps. Adding a new widget takes a second or two and you can open your app with ease from your Nokia N8's main screens.
Info-packed Status Bar
No longer do you need to roam around to find out about missed calls, texts or reminders, as Symbian Belle's impressive new Status Bar and Notifications Tab lets you view all this information from a single panel with just one quick tap, helping you to manage your communication easier on the Nokia N8.
A better Lock Screen
And even if your Nokia N8's screen is locked, you can still find out who's been getting in touch with you with just a quick glance, as all information on your missed calls and text messages, among others, can be found on the Symbian Belle lock screen, making it easy to see what's going with a quick look.
Easier friend updates
Viewing your email and social network updates is just as easy on the Nokia N8, thanks to Symbian Belle. With its great email and social network widgets you can quickly browse all of your recent mail and updates right from the Symbian Belle home screens, without ever needing to open an app.
Live Multitasking
Symbian Belle now makes multitasking even more useful than ever, with its great Live Multitasking feature on the Nokia N8, as you can now see exactly what all of your apps are doing when they're running in the background, making it incredibly easy to find and access the apps you want on your N8.
Great new apps
And with a great range of apps on offer from Symbian Belle, your Nokia N8 can be better equipped than ever once you update to the new OS. With a suite of powerful new business apps included, among others, your N8 can enjoy a new lease of life and you can get straight down to business.
So get excited people, are you looking forward to Christmas and the New Year, or are you more excited to see these pass and know that belle will soon be landing on your Nokia N8