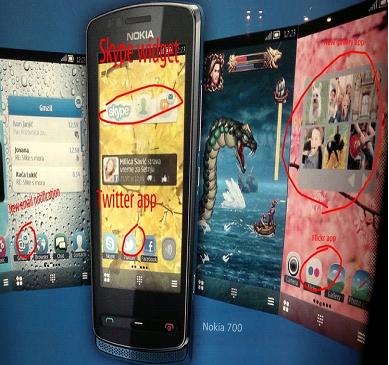 A Hawk eye over at Symbian Tweet spotted new widgets and apps on a commercial for the Nokia 700. On the phone in the middle you can see icons for a Twitter app and a Skype widget with notifiers right beside it.
Just to the left of the phone you see Nokia will also introduce a new mail icon with also with a notifier on the icon. If you look all the way to the right you will see a Flickr app and new Photo gallery widget.
With a Nokia Belle roll out due to start next month it will not be long till we get all these great new features and finally my Nokia N8 will the OS it deserves. I for one cannot wait, roll on next month. What about you, which widget is the one you use most?