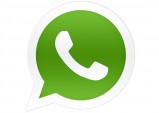 I remember how my boss said: "WhatsApp will be the death of text message". Back then – in 2011 – I doubt that. However, the Financial Times run a story claiming that instant messaging apps like WhatsApp or iMessage have overtaken text messaging. With daily approximately 41 billion messages the amount will be double the amount of sent text messages.
Nokia unveiled the Asha 210 last week. This feature phone is equipped with a dedicated WhatsApp button. Hence more and more people will get their hands on devices that enable WhatsApp.
WhatsApp's Chief executive Jan Joum recently said that the firm has more active users than Twitter which claims more than 200 million people use its service at least once a month.
Source: FT