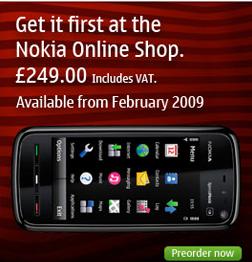 Nokia UK just emailed me that the Nokia 5800 will enter the UK market soon.The Nokia 5800 will be exclusively available from 10am at both the Nokia Regent Street and Heathrow Terminal 5 flagship stores and also online at www.nokia.co.uk/shop on Friday 23 January. Be one of the first to get this much anticipated device for £249 SIM free (including VAT). It will also be available to pre-order in store or at www.nokia.co.uk/shop from today. From Friday 30th January the Nokia 5800 will also be available through Vodafone, O2, Orange, T-Mobile UK, Virgin Mobile, Carphone Warehouse and Phones 4U.

Beyond touch
The Nokia 5800 offers choice: fingertip touch, stylus touch or exclusive plectrum touch. Texting is through alphanumeric keypad, full QWERTY keyboard or in-built hand writing recognition for really instant messaging. Whatever input method used, there is tactile feedback, or a "buzztouch" each time contact is made with the huge 3.2" screen.
Play
Go ahead, play on its superb, enormous widescreen. With the Nokia 5800, touch just got really smart as favourite music, images and videos are just one tap away using the corner media bar, which also includes maps and Ovi share. It also has world-leading surround sound built-in speakers with up to 35 hours of music play back
Share
The Nokia 5800 showcases your key contacts on the elegant homescreen and brings the fun back to keeping in contact, enabling instant checking for latest RSS 'friend feeds' in addition to calling and texting.
Source: Nokia UK