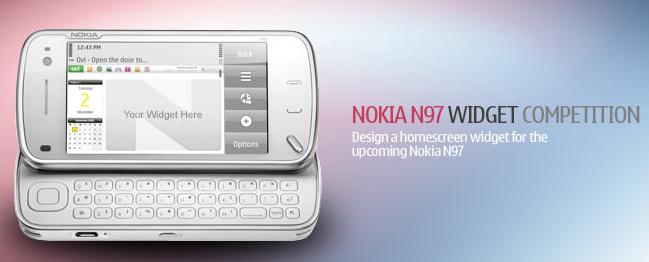 The team behind the Nokia N97 have launched a competition to find the most creative, innovative and useful widget to stick on the new device's home screen. The winner will receive a production-mode N97 ahead of public release. The widget will also be fully produced so you can spot your handiwork on N97s world wide!
How to participate
Download the design packag, design your widget and upload it for others to rate. Keep visiting the site to log your opinions on others' offerings because the ten highest-rated designs will go in front of a panel of judges selected from the Nokia Nseries team. The panel will choose the best home screen widget based on creativity, usability and quality of design.
What is a widget
A widget is a time-saving element of the device's user interface, a visual building block that provides an easily accessible single interaction point with an application, which holds and processes data. There are thousands of types of widget.
Prize:
The winning designer will receive a Nokia N97 pre-loaded with a working version of the winning widget.
Deadline:
The closing date for the competition is February 27, 2009. The winner will be announced on this site on March 13, 2009
Via: WOM World