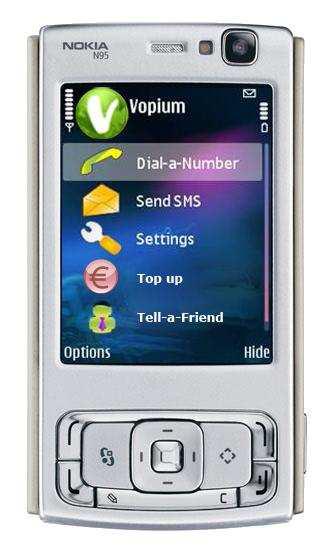 Today I came across a new service called Vopium. Vopium reduces the costs of your international calls and international SMS. However, how does it work and is it really useful? Read more to get the answer.
How it works:
Vopium is free, there are no monthly fee, no call set-up charges, no hidden fees. When you make an international call, Vopium re-routes your call as a local call to a Vopium gateway and then via premium global traffic carriers to ensure top-notch voice quality. All you need to pay is your mobile provider for a local call and Vopium for the international add-on.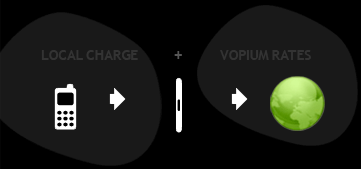 When you send a text message (SMS) with Vopium the message is sent as a small data package over your data connection (GPRS, 3G or Wifi) via a Vopium gateway. You pay your operator close to zero for using your data connection and Vopium for the international SMS.
The price for the redirection depends from every country. The exact price for every country can be find her.

Here a little example. If I( located in Germany) want to call somebody in Finland I need to pay for a local call, in my case 9 cent, and than 2 cent for the cost made for the redirection by Vopium. All in all one minute would be only 11 cent. This is really cheap. SMS will cost always 10 cent. A special offer is that one Vopium user can call another Vopium user for free when they do it over WiFi.

Registration and Installation:
First of all you need to sign up with your phone number and your email address over on Vopium. After you received a call and pressed '1' you will receive two SMS. One SMS will contain the Download-Link for the Vopium application and the other brings you your password and username. The application is available for almost every phone being your 5800, Windows smartphone or Java enabled phone.
Application:
However, to use the service you need the application of course. The application has 7 icons. These are:
Dial a number – for voice calls
Sent SMS – to sent SMS for 10 cent only
Top up – top up your account
Synchronize – load your contact and calender to the website
Tell a friend – inform your friends about Vopium.
Check balance – let's you see your account stats
Settings – edit and change your setting
I doubt that your device isn't supported as more than 500 devices are supported and especially the S60 phones are well covered. The application worked fine on both the N96 and the 5800. However, I've found one little bug with the 5800. As the 5800 has a touch screen you cannot enter a text message which I expect to be fixed soon.
Website:

Using your username and your password you can sign in on Vopium's website where you have full control over your whole account. You can pop up your account, see your contacts and your calendar entries, write text messages straight from the web, see your history and to more actions.
Verdict:
A really simple but nevertheless useful service. If you're making a lot international phone calls or sent several text messages to people located in other countries you really should take a look at Vopium. When you sign up you get 30 free minutes as well as 100 free SMS. However, there are other services like Gizmo, Truephone, Rebtel and more where you should take a look to. Nevertheless Vopium is really worth trying. You can also visit Vopium during the 16th-19th February at the MWC in hall 2.1,stand 2.1B69. If you have any questions please leave a comment.