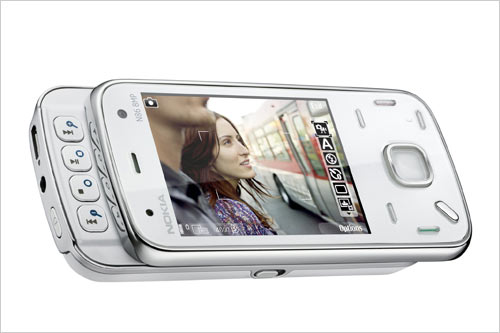 Today, one day after Nokia launched the E55, E75, 6710 and 6720, Nokia now unveiled the Nokia N86. The N86 features a superb 8 megapixel camera with a dual LED (only), GPS, FM-transmitter, W-Lan, a 2.6" AM OLED screen, 1200mAh battery, kickstand and much more. It looks pretty similar to the N85 and indeed it has the same dual slide with the dedicated multimedia keys. Other than that it runs on the S60 3rd Edition Feature Pack 2, offers 8GB of internal memory as well as a 3.5mm audio jack plus TV out function. It should be out in the second quarter for EUR 375,
before taxes and subsidies..
N86 Datasheet: (click to enlarge)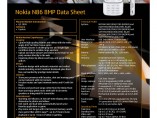 Barcelona, Spain – When Nokia set out to make the
best mobile imaging device, it combined wide-angle Carl Zeiss optics
and an 8 megapixel sensor, resulting in performance comparable to a
stand alone digital camera. The Nokia N86 8MP is designed to excel in
both bright and low light conditions, and it's optimized for both video
and still imaging. Its high-speed connectivity ensures easy and
convenient sharing. The Nokia N86 8MP is expected to begin shipping in
the second quarter of 2009 with an estimated retail price of EUR 375,
before taxes and subsidies.

"People
demand mobile cameras that take excellent pictures in all light
conditions," says Juha-Pekka Sipponen, Director, Nokia Nseries. "That's
why the aperture of the Nokia N86 8MP is comparable to that of a
high-quality, stand-alone digital camera. Whether it's running with the
bulls in Pamplona or capturing the panoramic beauty of a sunrise over
Sydney, the Nokia N86 8MP will take brilliantly clear, wide-angle
images that are instantly geotagged to be uploaded onto sites like Ovi
Share or Flickr."

Easy
enough for a novice to use, the Nokia N86 8MP packs enough punch to
impress an experienced photographer. This includes a wide-angle Carl
Zeiss Tessar lens for panoramic pictures, shorter latencies and
variable aperture for super sharp photos in challenging bright and low
light conditions. The fast mechanical shutter ensures pictures with
less motion blur while the dual LED camera flash is powerful enough for
excellent photography and video capture.

"When
it comes to taking the best digital photos, it's the quality of the
lens and the sensor that count, not just the quantity of pixels. The
Nokia N86 8MP is the first mobile device with variable aperture, adding
to the Carl Zeiss Tessar lens for excellent results. It has never been
easier to capture special moments in such a great quality," says Helmut
Heier of Carl Zeiss.

Every
detail of the metal-framed Nokia N86 8MP is thoughtfully designed with
photography in mind, including 8 GB of internal memory for up to 4,000
images. Like any high-end digital camera, the memory can be increased
with an exchangeable 16 GB microSD card. The device also offers a
bright OLED screen with scratch resistant hardened glass, easy photo
management, full sync capability with a PC and TV-out support for slide
shows.

Shipping
with the latest version of Nokia Maps and full Ovi integration, the
Nokia N86 8MP gives a personal dimension to photos and videos. People
can share their location with personal content like geotagged photos.
The Nokia N86 8MP comes with a built-in compass, along with an
integrated 3-months license for full voice and pedestrian navigation so
that happy snappers don't lose their way when capturing life through
the camera lens.

Multimedia features – music, games, video

The
Nokia N86 8MP, with its integrated kick stand, is ideal for watching
videos and playing games. Each Nokia N86 8MP can play up to 25 hours of
music on one charge which can be enjoyed with the Nokia Bluetooth
Stereo Headset BH-214 also announced today. People can build a personal
music collection from the millions of tracks and playlists available
from the Nokia Music Store, where available.