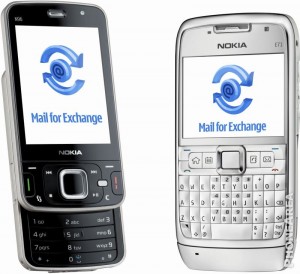 Now Nokia's Mail for Exchange has been updated to v.2.0.158. Allegedly it is available for almost all Nokia phones. However, the official homepage doesn't show the installation file when choosing for example the 5800, E61i or the N82. Nonetheless I think version 2.9 will work on these phones in due course. So far it is only available for the Nokia E51, E63, E66, E71, N73 and N95 8GB. Head over to download MfE 2.9 and to get further information.
Mail For Exchange 2.9.158 S60 3.1 HS (.SISX, 1.75 MB)
FEATURE LIST
Composing, Sending, Receiving and Viewing email messages
Synchronize Calendar events, Tasks, Contacts
Configurable sync window for Emails
Configurable sync window for Calendar
Support for GAL (Global Address List) lookup with Company Directory
Company Directory available as a stand-alone sis file
Accept / Decline meeting requests
Can search email content using the Search application
Always on, Timed and Manual sync modes
Schedule Peak and Off-Peak sync windows
Resynchronize all data from server to phone
User configurable conflict resolution (server or phone wins if conflict in syncing)
Synchronization logs
Controls for sync while roaming
Partial initial email download
Retrieve remaining content of partially downloaded email
Message reply/forward by reference
Message read status replication
Message deletion replication
Full Attachment support (receiving, sending, viewing, editing, saving)
URL, number, email address links from viewer
Save messages to sent items folder
Support for different access points (GPRS, WLAN)
Synchronize over a VPN connection
Support for all Exchange 2003 SP2 device security policies (available only on Nokia Eseries devices)
Support for many Exchange 2007 mailbox policies
Dynamically configured Heartbeat Interval setting
Detailed admin logging
Ability to set importance flag for sent messages
Configurable via device management server
Set out of office message
Set and clear flags on email message
With compatible devices Mail for Exchange can automatically switch between different types of access points (i.e. WLAN and GPRS) using Destinations.
Changelog:
Access Point Groups/Destinations – Mail for Exchange can now actively switch between WiFi and GPRS connections automatically if your phone supports Destinations. This feature is only available on S60 3rd  Edition, Feature Pack 2 and S60 5th Edition phones.  To identify your device, visit this site: (See your phone User Guide for details about Destinations.)
Calendar, Contacts, Tasks, are disabled by default on new installs. This is to prevent users from inadvertently losing Calendar, Contacts and Task data.
When editing your Out of Office (OoO) message on the the device, Mail for Exchange retrieves the current OoO message from the server when the setting/tab is accessed and OoO is set to "Yes", instead of periodically as in previous versions. This may cause a short delay and requires connectivity with the server.
Much better battery life in adverse network conditions. If the Mail for Exchange client can't maintain a connection to the Exchange Server, it automatically switches to polling every 15 minutes. The client will switch back to Always on at the next scheduled period.
Mail for Exchange setting tabs are no longer dynamically displayed, instead all tabs are always displayed.
Manage your device by name instead of IMEI via Outlook Web Access (OWA) email client (if account allows). Users of OWA can perform device management features on their phone clients such as wiping the device. The phone model name is now visible in the status field. This is helpful for users who are synchronizing several phones.
Pictures in contacts are now synchronized.
Thanks to Joost van Stralen