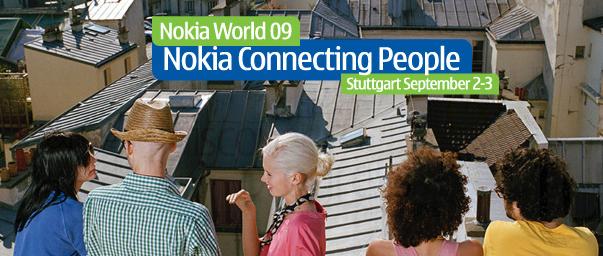 This year's Nokia World will be taking place in Stuttgart, Germany. From the 2nd until the 3rd September Nokia World will pitch its tent in the Messe Stuttgart congress centre. Although you cannot register for the event yet, Nokia have already launched the official website which features a lot information for you. If Nokia will launch a device like the N97 again isn't sure yet. However, sure is, that Nokia's President and CEO, Olli-Pekka Kallasvuo will be one of the speakers. This years theme are Discover, Play, Share and Organise The Messe Stuttgart is conveniently located between the airport and motorway and one of the largest and most modern congress centres in Germany since its opening in 2007. For further information head over to Nokia World's website.
Here the agenda for the Nokia World:
September 2
08:00 – Registration & coffee
09:00 – Morning Keynotes
11:15 – Experience lounge with Interactive sessions
16:30 – Keynote
19:30 – Nokia World party
September 3
09:00 – Morning Keynotes
11:30 – Experience lounge with interactive sessions and lunch
15:30 – Summary and Closing of Nokia World 09
At the heart of the event is Nokia's mission to connect people to the things they love – how, when and wherever they choose. The key message is brought alive in the four theme areas of Nokia World 09: Discover, Play, Share and Organise.

Discover
People want the ability to connect when and where they choose. That's why we create devices, services and solutions to help you reach out and share experiences in the context of time and place. From chatting to loved ones over distances to experiencing rich multimedia and the internet, Nokia keeps you close to anything and anyone that matters.

Play
Like most things in life, fun is always better shared and people are always seeking out new ways to find, enjoy and share entertaining experiences. In response, Nokia is constantly developing new ways for you to get the most out of mobility. Access music, games and video online – wherever and whenever you choose.

Share
Belonging is one of our most fundamental needs. People want to feel confident about joining and fitting into social groups and "tribes": networks, organizations and societies. Nokia is committed to innovating new and better ways for people to come together – both virtually and physically. Not only do we offer you an extensive range of devices to suit your individual needs, we're also evolving new services that connect you with friends, family and like-minded people.

Organise
People want to be successful in both their professional and personal lives. They want to get the most out of work and leisure – without compromising on either one. Nokia works to bring you a range of connectivity tools, devices and services that help you maximise your potential and fulfil your goals.

Keynote Speakers
Renowned top-level figures will once again join us this year and help to inspire ideas, which will ultimately shape our vision of the future.

This year, we're delighted to welcome back Olli-Pekka Kallasvuo, President and CEO, Nokia, to deliver a keynote address, in addition to other industry speakers.

Experience lounge
2009 will see an unparalleled opportunity for delegates to be truly immersed in Nokia World. The space will bring to life many of the journeys we make every day, showing how Nokia products, services and solutions help you to stay seamlessly connected.

The Nokia World Experience lounge can be explored through demonstrations and interactive experiences. Each touch-point leads you through both products and solutions, to life in intuitive and relevant ways.

Party
The Nokia World party provides you with a unique and invaluable way to network, meet old friends and make new ones in a relaxed and friendly environment where work meets play.
Source: Nokia Conversations