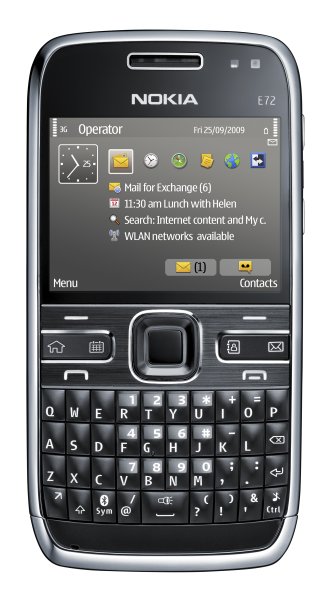 At the Nokia Connections Event in Singapore Nokia announced a successor of the popular E71. The Nokia E72 has a sleek design, featuring almost the same functions the E71 does. However, on the back you can find a 5 megapixel camera with LED flash as well as a 3.5mm audio jack on the top. It runs on S60 3rd Edition Feature Pack 2 has a Optical Navi key in the centre of the D-pad and will be available from Q3 2009 for 350€.
Combine all your emails into one inbox, for life. It's a snip to set up from the home screen – and includes Mail for Exchange, IBM Lotus Notes Traveler for corporate email, as well as Yahoo! Mail, Gmail, Windows Live Hotmail and most other POP3/IMAP email – plus a lifetime license for Nokia Messaging, Nokia's mobile email and IM service.
Instant Messaging in an instant – easy steps to set-up from the home screen to access services like Yahoo! Messenger, Google Talk and Ovi.
Best-in-class mobile email experience gets even better – the Nokia E72 improves company name search, remote directory lookup, and handling of meeting requests – as well as providing easy 3-step set-up, support for HTML emails in Exchange 2007, sorting email into folders, auto-complete and auto-correction features
Maps – Find your way from meeting to meet-up quickly and easily with turn-by-turn, voice-guided navigation. The Nokia E72 comes with A-GPS with compass with integrated Maps – and includes a lifetime walk license. And if you activate it within the first 3 months, you get 10 days free turn-by-turn navigation too.
Lights the way – If you need to see where you're going, you can turn on the built-in flashlight with one touch.
Ovi services include push-email and IM with Nokia Messaging, N-gage games, and the ability to geo-tag and share photos.
Social networking supports easy access to Ovi, Windows Live!, Yahoo IM, Facebook, YouTube, MySpace.
One-touch keys to access Email, Contacts, Calendar and Home.
Voice-commands to use your phone with both hands free.
New version of Quickoffice provides compatibility with Office 2007 documents and free version upgrades when available.
Built-in mobile VPN for convenient and secure access to your company intranet and contacts.
Data Encryption both on the device and the memory card to keep your contacts and documents securely confidential.
Superb call quality even in busy cities using active noise cancellation.
Choice of sleek colors: Zodium Black, Metal Grey, Topaz Brown.
Kick-back and enjoy the music – the Nokia E72 adds a standard 3.5mm headphone jack to its quality music player and FM radio. Listen through your choice of headphones or over Bluetooth stereo audio. Store up to 1500 tracks with the in-box memory, or up to 6000 with an upgraded memory card.
5 megapixel camera with autofocus and flash delivers fantastic image quality.
Video capture and video calling with the extra VGA front camera.
Excellent web browsing with built-in Flash player and auto-landscape orientation
Extended battery life to see you through the longest days – up to 12.5 hours talk-time, and up to 24 days standby time

There is improved speed of Internet up- and down-links too – plus enhanced navigation with compass, integrated Nokia maps. Add to that a 5-megapixel camera, standard headphone jack – plus lifetime licenses for some email and navigation services – and you can see the Nokia E72 raises the bar for quality and performance in a business-focused mobile companion.

The E72 develops on the huge success and popularity its predecessor, the E71, by adding great new features and improvements. It now provides the desktop-like interface so popular in the E75, as well as combining multiple business and personal email
in-boxes into one. You can now also connect to your favorite IM accounts direct from the home screen.

The latest full-QWERTY keyboard Eseries tunes into the needs of busy working people. The Nokia E72, fast, full of resources, sports a slim profile. Many of its biggest strengths are around the richness of the out-of-the-box email and instant messaging experience.
Source: AAS