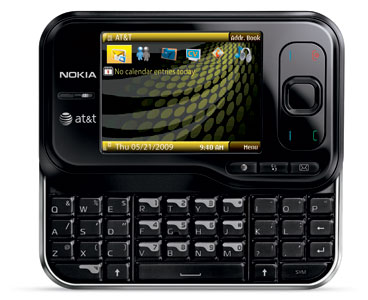 As we mentioned earlier, AT&T's Surge was originally destined for the North American market. However, according to the Nokia Press Bulletin Board, Nokia have announced that the Surge, now referred to as the Nokia 6760 Slide, a messaging optimized device with a sliding QWERTY keypad, is going to be released globally.
This device is ideal for individuals who want to stay connected when they are out and about, with fast and easy access to favourite social networking sites like Facebook, MySpace or Twitter as well as email accounts from Ovi Mail, Gmail, Yahoo! Mail, Windows Live Hotmail and thousands of other email providers.
Setting up an existing email on the Nokia 6760 Slide is simple as you only need to provide your email address and password and the device will automatically set up the service for you. Push email is also available through Nokia Messaging. Instant Messaging no longer needs to be confined to a computer as the Nokia 6760 Slide also offers access to instant messaging solutions from Google Talk and Windows Live Messenger directly on your handset.
Other features include the 2.4″ QVGA 16-million colour display and a 2 megapixel camera, HSDPA support, Bluetooth, FM radio, MicroUSB port, MicroSD card slot and a 2.5mm audio jack. All features and functionality on the Nokia 6760 Slide are powered by a 1500 mAh battery, which is great news for such a capable handset.
The Surge also features an inbuilt A-GPS module together with the 3D landmarks, and the terrain maps give the device a greater appeal and bring it right up to date will all the current handsets.
At the end of the day, the Nokia 6760 Slide is going to be the teenage must-have this Christmas, with excellent multi-tasking capabilities (tweet, email, IM, share online, browse the web, listen to music, all at the same time).
The Nokia 6760 Slide will be available during the third quarter of 2009 for €199 before subsidies and taxes.
Source: Nokia Press Bulletin Board