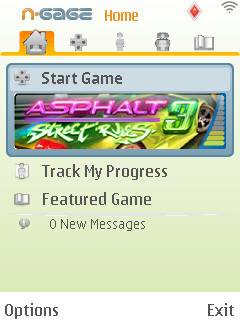 An updated version of the N-Gage Application has been made available today, and even though it has not "officially" gone onto the "Get N-Gage" page of N-Gage website the updated app is available for all 3rd Editio devices such as the N96, E75, N95 or the 5730 XpressMusic.
What i can say is that the Updated application does have a "mini-intro" where the N-Gage logo fades into place, similar on how the Xbox 360 logo appears when your turn on an Xbox 360 console – not only that the app now tells you how many N-Gage games are currently on your device. Other minor differences include:
At the bottem of "your games page" is an option to install games from a PC (and learn how to do it).
N-Gage Points now has a dedicated button to click (which shows the two closest people to your score)
Improved speed on navigating around the menus (and viewing NGP of each game)
I assume a few bugs or minor problems have been fixed in this new release, but my problem of not being able to download games direct from the N-Gage Showroom (via Wifi) still occurs – however a few people have had this similar problem aswell. The New N-Gage application should officially be available on the N-Gage website in the next few days.