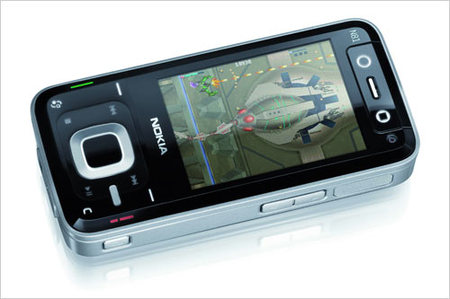 The  Technical specification of the new Nokia N81  are now sure:
Operating Frequency
WCDMA 2100 + E850/900/1800/1900MHz
Automatic switching between bands and modes
Dimensions
Volume: 86 cc
Weight: ~140 g
Length: 102 mm
Width: 50 mm
Thickness (max): 17.9 mm
Memory Functions
Hot swappable microSD memory card slot
Power Management
Battery: Nokia Battery (BT-6MT) 1050mAH
Talk time: up to 240 minutes GSM / 180 minutes WCDMA
Stand-by time: up to 17 days
Video playback time: up to 4.5 hours (QVGA)
Browsing time (packet data): up to 5 hours
Music playback time: up to 11.5 hours
Video recording time: up to 3.5 hours with (QVGA)
Gaming time: up to 6 hours
Operation times may vary depending on radio access technology used, operator network configuration and usage.
Display
Active matrix 2.4" QVGA main color display (320 x 240 pixels), up to 16.7 million colors
User Interface
Operating system: Symbian OS ver. 9.2
User Interface: User interface: S60 3rd Edition, Feature Pack (S60 3.1)
Dedicated media keys for quick and easy access to music and video: play/pause, forward, rewind, stop
Dedicated game & volume keys
Device hold key
Multimedia key & Navi™ wheel
Call Management
Contacts: advanced contacts database with support for multiple phone and e-mail details per entry, also supports thumbnail pictures and groups
Speed dialing
Logs: keeps lists of your dialed, received, and missed calls
Automatic redial
Automatic answer (works with compatible headset or car kit only)
Supports fixed dialing number, which allows calls only to predefined numbers
Conference call
Nokia push to talk (PoC)
Voice Features
Speaker independent name dialing (SIND)
Voice commands
Voice recorder
Talking ringtone
Integrated hands-free speaker
Internet calls (VoIP)
Messaging
Text messaging: supports concatenated SMS, picture messaging, SMS distribution list
Multimedia messaging: combine image, video, text, and audio clip and send as MMS to a compatible phone or PC; use MMS to tell your story with a multi-slide presentation
Automatic resizing of your megapixel images to fit MMS (max 300 KB size depending on the network)
Predictive text input: support for all major languages in Europe and Asia-Pacific
Connectivity
WLAN IEEE802.11 b/g with UPnP (Universal Plug and Play) support
Bluetooth Specification 2.0 (profiles supported: DUN, OPP, FTP, HFP, GOEP, GAP, SPP, HSP, BIP, A2DP)
Micro USB 2.0 Full Speed (mass storage class)
Nokia AV Connector 3.5mm
Additional Technical Specifications
Protocols: MTP, UPnP, TCP/IP
Java™ MIDP 2.0, CLDC 1.1
Flash Lite 2.0
Imaging and video
Up to 2 megapixel (1600×1200 pixels) camera, MPEG-4 VGA video capture of up to 15fps
Zoom: digital up to 20x
Front camera (CIF)
Video call and video sharing support (WCDMA network services)
Integrated flash (modes: on, off, automatic, redeye reduction)
Rotating gallery with Navi wheel support
Online album/blog: photo/video uploading from gallery
Nokia Lifeblog support
Video and still images editors
Nokia XpressPrint solution direct printing via USB (PictBridge) or Bluetooth connectivity (BPP)
Music Features
Nokia Nseries digital music player
supports MP3 (VBR), AAC, eAAC+, AAC+, WMA/M4A, WAV
OMA DRM 1.x, 2.0, Windows Media DRM (OTI/OTA with Nokia Music Store*)
Hot swappable microSD memory card slot (2GB inbox = up to 1600 songs**)
Play list management
Synchronize music with Windows Media Player 11
Media keys (play/pause, stop, forward, rewind)
Integrated stereo speakers
Dedicated volume keys (20 volume steps)
5-band equalizer
Nokia AV Connector 3.5 mm (can also be used with standard 3.5mm headphones)
Nokia Stereo Music Headset (HS-45 + AD-54) as inbox accessory
Navi™ wheel support
UPnP(Universal Plug and Play) music streaming
Bluetooth wireless technology A2DP profile (Bluetooth stereo)
Nokia Podcasting
Find, subscribe to and download podcasts over the air direct to your device
Listen to or watch the podcast
Browse and search the feed directory to find the podcasts you want
Subscribe and get new podcast episodes downloaded automatically
Choose whether the Podcasting application uses wireless LAN (requires WLAN network access) or GPRS/WCDMA packet data (requires a packet data plan) to download podcasts to your Nokia Nseries device.
FM Radio with Visual Radio support
Stereo FM radio (87.5-108MHz /76-90MHz)***
Get instant access to your favorite stations.
Connect to the FM radio and find the music, sports and news broadcasts in the station list for your region
Choose your favorites from a regularly updated directory and save them as a preset
Listen to music and interact with your favorite radio stations
Find out what song is playing, who sings it, and other artist information
Enter contests and answer surveys, vote for your favorite songs
Find out more about Visual Radio
Nokia Music Store
Purchase music online in Nokia Music Store*
Connect to your account from your compatible PC and mobile device
Search by artist name or title
Explore more music with genre searches and recommendations
Buy, download and listen to tracks on your PC
Connect to Nokia Music Store on your mobile device through WiFi or 3G networks
Use the wishlist to tag tracks on your mobile device to download later on your PC
Listen to 30 second clips before choosing to download
Buy and use pre-paid and bonus credit
Use Microsoft's Windows Media Player 11 installed on your compatible PC to synchronize
*To check the Nokia Music Store availability in your country, visit www.music.nokia.com
**Capacity based on 3:45 minutes per song with 48 kbps eAAC+ (M4A) encoding on the Nokia Music Manager for Nokia N81 with a 2GB microSD card. Capacity with 128 kbps AAC encoding is up to 500 songs
***Stereo sound can only be heard with a compatible stereo headset
Multimedia Menu
Quick and easy access to your
music & podcasts
games
images & videos
most important contacts
internet bookmarks
points of interests
Navigation
Nokia Maps application
Navigation with Nokia Wireless GPS module LD-3W (sold separately)
Search and Find
Nokia Mobile Search (local & internet search)
E-mail
Easy-to-use e-mail client with attachment support for images, videos, music and documents
Compatible with Nokia Wireless Keyboard (sold separately)
Browsing
Nokia Web Browser with Mini Map
Digital home
Play video, music and photos on home media network
– compatible TV, stereo and PC over WLAN/UPnP (Universal Plug and Play)
Java Applications
Java MIDP 2.0, CLDC 1.1 (Connected Limited Device Configuration (J2ME))
Over-the-air download of Java-based applications and games
Other Applications
Personal Information Management (PIM)
Advanced S60 PIM features including calendar, contacts, to-do list, and PIM printing
Settings Wizard for easy configuration of e-mail, push to talk and video sharing
Data transfer application for transfer of PIM information from other compatible Nokia devices.
WLAN wizard
High quality text to speech
Connectivity
Integrated wireless LAN (802.11 b/g) and UPnP (Universal Plug and Play)
Bluetooth wireless technology with A2DP (Bluetooth stereo audio)
USB 2.0 via Micro USB interface and mass storage class support to support drag and drop functionality
3.5 mm stereo headphone plug (Nokia AV Connector)
Nokia PC Suite connectivity with USB and Bluetooth wireless technology
Local synchronization of contacts and calendar to a compatible PC using Nokia Nseries PC Suite
Remote over-the-air synchronization
Send and receive images, video clips, graphics, and business cards via Bluetooth wireless technology
RealPlayer Media Player
Full-screen video playback on the device to view downloaded, streamed or recorded video clips
Stream media files from compatible media portals
Supported video formats: MPEG-4, H.264, H.263/3GPP, RealVideo 8/9/10
Dedicated game keys
Play games in landscape or portrait view
Discover N-Gage application including:
– Space Impact Light
– Asphalt game demo
– Fifa soccer 2007 demo
– Possibility to download N-Gage application (when available)
Standard Sales Package Contents*
Nokia N81
Nokia Music Headset HS-45 with remote control AD-54
Nokia Connectivity Cable CA-101
Nokia Battery BP-6MT
Nokia Compact Travel Charger AC-5
Nokia 2GB microSD Card MU-37
Inbox colors available
Cobalt blue
Graphite grey