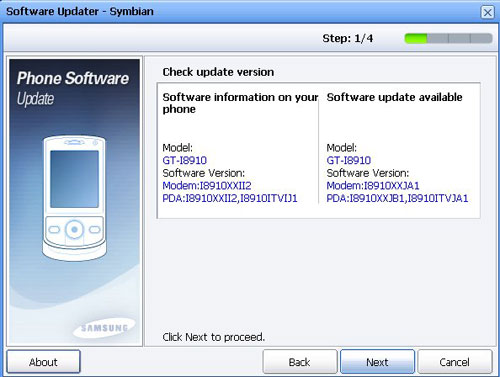 The Samsung i8910 Omnia HD has received a new firmware update taking it up to JB1. The new firmware brings many long awaited improvements include kinetic scrolling, web enhancements, UI optimizations to increase responsiveness and bug fixes. The Samsung i8910 Omnia HD does not sport any form of UDP as per Nokia, therefore we strongly suggest you back up all your data and memory.
Changelog:
Kinetic scrolling now in more parts of the UI (but still not in the main Applications menu)
The Next Gen (NG) version of Web: (faster, automatic switching to full-screen)
Camera capture and video recording settings have been improved
Bug fixes and optimizations throughout the UI
This is what Steve Litchfield of AAS made of the new update:
Samsung has made worse the already critical lack of flash memory on disk C: By default, you now only get 17MB free after the update/reset. This is utterly ridiculous and is a huge impediment to power users while causing potential chaos for inexperienced users. If I remember rightly, the previous firmware allowed the user some 30MB or so free, so things just got dramatically worse. Quite understandably, Symbian OS starts to complain if it's got less than 10MB of workspace free for temporary files (e.g. web cache) – starting with 17MB free is just Stupid with a capital 'S'. And galling, in view of the fact that skilled hackers elsewhere in the world have managed to cook up i8910 HD firmwares (don't ask how) which have up to 100MB free. Samsung, you dropped the ball here.