Do you know the problem? You can't find you phone and you don't know if it's stolen or if you just forgotten it in your favorite pub or wherever? You could either go to your provider and lock the SIM card or hope that you've just forgotten it in the pub. However, isn't there a much easily way to ensure that nobody use your phone, make calls or send SMS and so to affect your bill?
Yes, there is one – Txt2Lock!
What is Txt2Lock?
Txt2Lock is a new innovative security application for your Mobile Phone. For £7 Txt2Lock puts you in control of your handset removing any worry and concern about your phone bill, data and privacy as a result of loss or theft. Txt2Lock will also work in any country and on any Mobile Network protecting you wherever you may be. Txt2Lock works on near every Nokia S60 phone. Check if your mobile is also supported and jump over to the developer site to buy this great application.
After you bought Txt2Lock and installed it on your phone, you can see the Txt2Lock icon in the menu. Now you have to enter your activation code and your 6 digit PIN1. This PIN1 is really important and I advise you to note this PIN1 somewhere (not in the phone).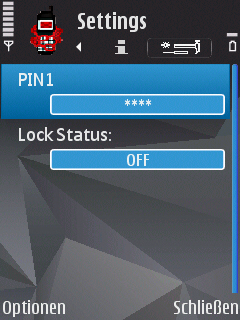 The program itself offers you just one real option. Changing the lock status to off ensures you that one can't make calls, write SMS or go to the Internet. However, if your phone is stolen or you don't know where to find it you have two possibilities – Lite Lock or Max Lock. Lite Lock encrypts your memory card and locks all outgoing activity. Max Lock disable the screen and bar all activity on the handset.
Lite Lock:
To activate a Litelock, text your personal secret 6 digit PIN1 plus *1 to your handset. For example 123456*1
Once the SMS is received your handset is locked for all outgoing activity and your memory card is also encrypted.
There's no warning or alerton the handset that a Litelock has been activated.
To unlock Litelock, open the application, enter your personal secret 6 digit PIN1, scroll right to settings and change lock status to off.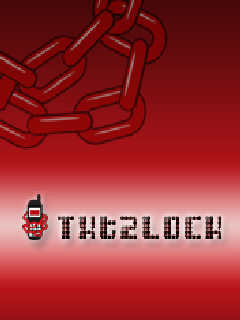 Max Lock:
To activate a Maxlock, text your personal secret 6 digit PIN1 plus *2 to your handset. For example 123456*2
Once your handset receives the text your handset is completely locked and can't be used for anything.
This is evident by the Txt2lock logo( picture above) on the screen.
To unlock Maxlock press the red key, than the left soft key, enter your personal secret 6 digit PIN and finally just press the right soft key. Now your handset is restored and you can use is normally.
Verdict:
Txt2Lock is a great application which offers you a high security standard for you, your phone bill and also your personal data. It's really easy to manage and works fine with my N95. There is no chance to fool the lock and even when you pull out the battery and start the phone again, the phone's still locked. If you buy Txt2Lock you have credits for 5 free SMS which is really neat due to you can check out if the software really works and you don't have to spent money for test SMS.