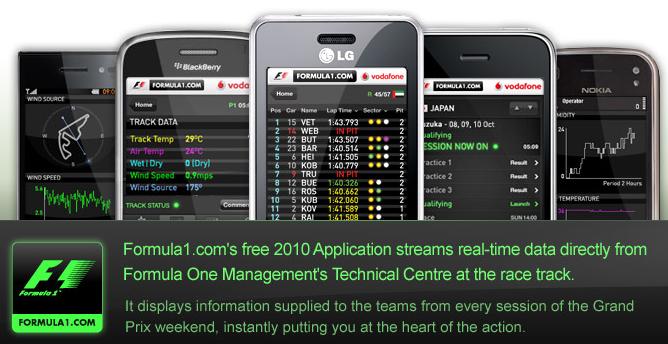 For all you Formula1 fans I've found the official Formula1 application. This application displays information supplied to the teams from every session of the Grand Prix weekend. Thus you always have the latest results, stats and all information you need. Point your browser either to mobile.formula1.com/download to download this freeware application or download it straight on SymbianWorld. This application works on all S60 devices like the Nokia N97, X6, N95, E90 or the Sony Ericsson Satio.
S60 5th Edition Download (N97, 5800, X6, Satio, Vivaz)
S60 3rd Edition Download (N95, E72, E71)
The main timing screen lets you track the progress of every driver, from their position and best lap time to their latest sector times and lap count. Other features include a track status indicator, informing you of yellow/red flags and safety car phases, plus straight-line speeds and text commentary.
The circuit data screen lets you know what conditions the drivers are facing out on the circuit, with the current air and track temperatures, rainfall, air pressure and humidity levels, plus wind speed and direction. Graphs also allow you to see how conditions have changed throughout the session.
The Official Formula1.com 2010 Application isn't just about the current race. Other features include results for every session of the current season, the season calendar, timetables for every Grand Prix and the current championship standings.