Because I love listen to music on my phones, I was looking forward to put my hands on the N81 8GB. With 8GB memory, it has enough space for my favorite music. However, not only the space is important, also the handling of the musicplayer and the battery life is really important. Yesterday I received an N81 8GB and now I know why the N81 8GB is called a music-phone. Here are three things, besides the music player and the battery life, making the N81 8GB a real Mp3-player:
Musickeys: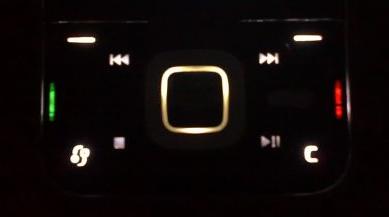 Besides the typical S60 keys, you can also find four musickeys under the 2.4" screen. So you can control the music without switching to the music player.I know how annoying it can be, switching to the musicplayer all the time just to skip the current titel. To start the music from wherever your are, just press two times the play/pause button. Than you can easily change to the next track using the forward key. To fast forward thought a track, press and hold the forward key. You can also skip to the beginning of a song pressing the rewind key. If you've enough from your music, just press the stop key to stop the music. I do like the musickeys which are built in the N81 (8GB) and also N95 because they give you better access to your music.
Navi wheel:
You may know it from the iPod – the navi-wheel. Instead of pressing the navikey up and down, you can " caress" N81's navi wheel. The navi wheel seems to be built in the navikey and works pretty good. So you can scroll thought your music library and the gallery as well. I prefer the navi wheel because it's more handy and looks cooler.
3.5mm jack

Thank you Nokia! I have five Nokia devices in front of me and four of them got a 3.5 mm jack. A year ago devices with a 3.5mm jack were really rare but now we have more and more devices with the "perfect" jack. The N81 has the 3.5mm jack placed on the top of the device. This is really neat because I don't like when the jack is on the site ( e.g N95). The 3.5mm jack allows you to plug in every headphone you like. So you can choose if you want to use the original Nokia headphones or your own iPod, Sony or other headphones. The N95 and N82 want me to select enhancement when I plug in my iPod headphones but when I plug it into the N81, it automatically use it.