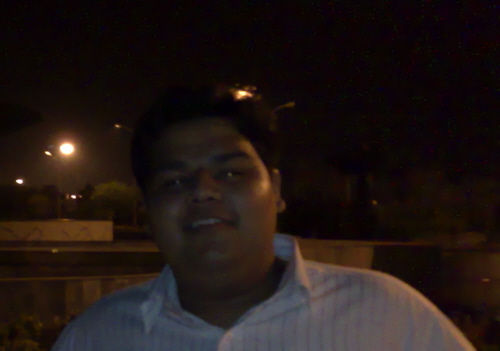 Vaibhav is the author of The Symbian Blog. I've meet Vaibhav in WOM World's Nokia World Quiz chat. He's pretty cool  and if you don't know him, you shal read this interview.
Previous interviews:
So, tell me something about your person. (age,hobby etc.)
I am 21 years old, Indian and presently a student of law. I am a big movie buff and a fan of the cinema experience; I guess that would qualify as one hobby. The second would be spending time with friends, practically doing nothing. The next is the Internet on which I enjoy spending time but hardly get a chance between college, exams, movies and a few projects I always seem to be caught up with. But I do make it a point to catch up with my RSS and blog whenever and wherever I can (Even these days I have exams going on). Oh and yes, I do relish a debate or two!

How did you come to the mobile and S60 scene?
It was a few years ago while I was still in school. That point in time I was more interested as most kids are in computers and may be a bit of gaming. My mobile phones of that time were nothing to write about but still with a little bit of interest in cell phones, all I did was put 'polyphonic' ringtones and wallpapers in it! Just about then a friend got the Nokia 7650 and boy was I impressed with the device. Great big screen, nice form factor (I love it till date) and the ability to add softwares was what caught my eye more than anything. I remember there was this application called 'Photographer' which allowed one to put masks and then click pictures of people, way cool back in the day. I still had no clue what the device ran on but since I had this urge for software for the phone I looked up the internet and it began!
Series 60 as it was back in the day, I discovered applications like anything and decided, my next device was going to be a S60. However what came out were 3650 and the 3660 and with horrible form factors, I gave them a skip. With the cult phone, the 6600 it truly began for me as it did for a lot of us.

Why did you start blogging?
I enjoy the experience of a S60 device and yet I do not see others around me do the same, things are changing though. I really did enjoy showing off with the smartphone, be it controlling the computer or TV, the works, something all of us 'in the know' take for granted. I loved the whole open feel to the environment and wanted others to feel it too. I joined forums and what I saw was generally that there are a few basic things which keep coming up again and again as more and more people get introduced to S60 so I thought maybe I could make something like a depository for popular subjects. Moreover independence is something forums do not provide, say there are 10 different things on 10 different topics which I want to talk about, naturally the moderator would not be pleased with 10 new threads! Another plus about blogs is that you can potentially if you are successful, have a wider reach.

Tell us something about your blog.
When I started it was supposed to be something on which I wrote about happenings related to technology, predominantly S60 and Nokia phones since that is the sphere I have the most experience in. I also wanted to talk about ways to get more from your phone. With that in mind I've realized that what I focus on or try and focus on primarily, is giving my perspective on things, applications and announcements rather than bringing the news as it happens. However I do try and put things that I feel are important, as quickly as possible! Most of all I try and share the things I've learnt over a period of time messing around with S60.

Do you have a idol(blogging idol)?
There are a lot of people I admire. When I was new to S60 the only place I was aware about was AAS. I've read a lot of Steve's work and till date he is one man who has tremendous insight and I enjoy reading what he has to say. Next is Teo, because of his work over at the Symbian Freak forums; Stefan, for the sheer courage to pursue his dream and Ricky for doing a great job on S-G. There are a lot of other S60 bloggers who I have tremendous respect for and hope I can be friends with some day!

What was your first S60 phone and which device do you have at the moment?
The first S60 I owned was the 6600. Then the 6630 briefly, the 6681, the Nokia 7710 for a short while, whose touch screen only input made me revert to the 6681. Next I had the N91 to play with for a while. I currently have the N95 and am saving for the next N9x!

What do you like most about S60?
My first instinct was to say everything however; a deeper thought process does prevent me from saying that. The first and foremost is the openness of the platform, next comes the ability to have one handed operation. I've dabbed in WinMo for a brief time, S80, S90 and even Linux on the N800 courtesy the WOM world, yet no OS is as easy to operate as S60. I hope that even with the touch UI, one handed operation is priority number one. Another thing is the whole S60 community.

Where should S60 make improvements?
I am too used to the interface to want a complete over haul. S60 can go to greater heights with small implementations. One thing that's just come to my mind is that when we receive files via Bluetooth they should go directly to the Gallery, what is the point of opening them, saving and then deleting them.
However on a more macro level stability is priority number one and marketing is number two. Lastly, from now on all S60 phones should have a similar base configuration in terms of camera, music and so on so people identify with the OS a little more. When I say S60 it should be synonymous with what I can get it to do, rather than what it can do.

Now a question you miss and you want to answer?

What is the one thing you think makes Nokia a world leader?
The thing about Nokia is that it is one company who listens. Right from WOM world loaning out devices to trial, inviting bloggers to events, holding virtual events for one and all and actually acting on all the feedback, they have been doing things right. Back in the day when the N95 was criticized, they worked on it and brought out the N95 8GB. People who had bought the N95 cried foul, but the v20 firmware brought some redemption. So in a way whatever we are saying, shouting and ranting about is not falling on deaf ears unlike some 'others'. A lot of people ask me before they make a purchase and for years now I've been recommending Nokia S60 devices to people depending upon their need and so far they've not been burnt. It is up to Nokia to keep the trust!

Thank you Norman for the interview and keep up the great work on your site! Cheers!