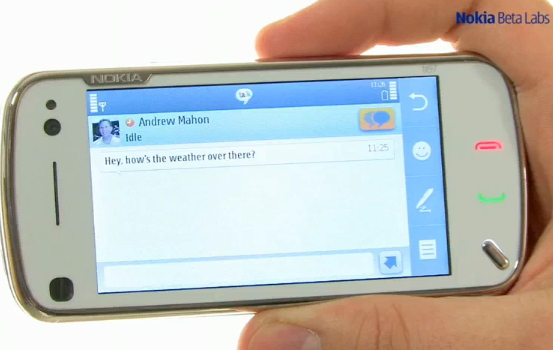 The Nokia Beta labs just released a beta version for touch screen devices of Nokia Messaging for IM. With Nokia Messaging for IM you can use IM services like Yahoo, Windows Live Messenger and more.
Chat with your friends on the Windows Live Messenger, Yahoo!® Messenger, Google Talk and Ovi communities.
(new!) Easily change your custom status, avatar (picture) and switch between conversations and communities with just a few taps on touch-based devices.

(new!) Preview new messages in the Chat home screen widget.  When signed in to multiple communities, the widget will cycle between them.  You can also change your presence within the widget itself.
See your friends' avatars and set your own using the camera or an image from your gallery (for Windows Live Messenger (new!), Gtalk (new!) and Ovi communities).
Download Nokia Messaging Beta for IM Here:
Jump over to Nokia's Beta Labs to find out more.