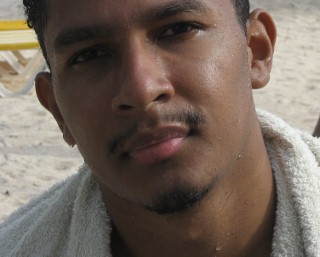 If you have seen some pictures of the N82 launch in Finland, you surly notice Devin Balentina. He is author of The Nokia Guide. But where is he from and what is his dream device? Read the interview, to learn more about this great blogger.
Previous interviews:
So,tell me something about your person.(age,hobby etc.)
Hi, let me tell you a bit about where I'm from and a little bit about myself. My name is Devin Balentina and I'm from the island of Curacao. Curacao is situated in the Caribbean and is part of the Netherlands Antilles (Dutch Kingdom). Almost all inhabitants of the island can fluently speak Papiamentu (my native language), Dutch, English, and Spanish; besides those 4 languages I also speak French. I'm a 23 year old Law student at the University of the Netherlands Antilles. Besides mobile technology, Nokia and S60 I love technology in general like car tech, audio and home theater, games, computers and multimedia. Other than tech related stuff I like art (as I like to paint, draw and photography in general), nature and the conservation of our environment. I also like to work out.

How do you came to the mobile and S60 scene?
To be honest I entered the mobile scene quite late. At first I didn't really worry about mobile technology, my first phone was the 6120 (the classic one with the antenna.) Back then I really saw phones as devices to make calls and that was it. My views really changed when I saw what could be done with a PC and Bluetooth enabled phone, that's why I considered either the Nokia 6230 or Sony Ericcson T630. In the end I ended up getting the 6230. After that I kept researching the area and looking at all the things these devices could do. After the 6230 I upgraded to the 6230i, but I noticed that S40 couldn't do all the advanced features like installing applications so going the smartphone route seemed like the next logical step. At the time the N70 caught my eye because of all the things it was capable of especially the 2 Megapixel camera and the fact that it was a smartphone. After the N70 I only bought Nseries devices.

Tell us something about your blog.
My blog is called The Nokia guide and I chose that name because my purpose was to inform about all things Nokia not only to the users that have been into the scene for many years, but especially those starting new with their first S60 device. Having started knowing nothing I know how hard it can be at times to understand all the terms and emerging technologies, so having a "helping hand" is something that I'm hoping new users would like and appreciate. When it comes to the more advanced readers it's a bit different. As always technology doesn't stand still, so I have to constantly keep up with new devices and how they perform. You are than literally making small discoveries and it is this knowledge that you gain, that you share with the more advanced users. On the other hand they also have their own new knowledge to share. This back and forward sharing of ideas and knowledge among the more advanced users will lead to a collectiveness of knowledge that shapes the mobile industry and the phone WE like and enjoy. In other words the blog is intended to help others, but also hear and spread the words of others and lastly it's a way of collecting your knowledge and those of others to shape the mobile industry and the devices we use every day. Before The Nokia Guide I had a Vox blog called Symbian Universe.

Why did you start blogging?
As a member of the Howard Forums I constantly tried to help others, especially the new members. In real life I also like to give advice not only when it comes to technology, but also in general, so this is something that I enjoy doing. One day I thought: why not start a blog, a place where information can be stored and accessed from anywhere and anyone. So when people wanted to know something I had already covered it was just a matter of giving them the right link. I also think Darla Mack's and Ricky Cadden's blogs influenced me in starting a blog.

Do you have a idol(blogging idol)?
There are many people in the mobile scene that I admire, but I would say Darla Mack. I enjoy reading her blog and I like reading about her real-world experiences with Nokia devices. The way she shares her thoughts and ideas about complicated matters in such an informative and simple way is what makes her blog so special.

What was your first S60 phone and which device do you have at the moment?

My first S60 phone was the Nokia N70. I currently have the Nokia N76, N82 and N800 (although not a phone or S60 device). I just sold my N95 and waiting for my N95 8GB to arrive. I'm also trialing the N81 8GB, so I guess those counts too.:)

What do you like most about S60?
I like S60's flexibility to install apps and literally add the features you want. Other things I like are the ability to multi-task, especially now with all the extra RAM available and having the ability to copy/paste is very useful. And lastly I really like the S60 browser and the Podcasting app.

Where should S60 make improvements?
I think S60 is a very powerful (featureswise) and flexible, but one area they really need to work on is the eye-candy. It should looks nice and make people say: I want that! Other than that, S60 isn't very friendly when it comes to new users as icons are always changing or being moved around. I believe that it can be made to look simpler yet keep its advanced functions. So basically it needs some eye-candy and a little touch of simplicity.

Now a question you miss and you want to answer?
What would be your dream device?
Something with all the features of the N95 8GB, but with touch, a QWERTY keyboard and an additional numeric keyboard.