This is the first time for me to be writing here at Symbian World and I must say I'm honored to be. Last week I received an N81 8GB from WOM World (many thanks) and I've been really enjoying my time playing with it. So far I've talked about its Buttons power and Music Power. I decided to make my third post here on my friend's -Norman- Symbian World about Gaming Capabilities.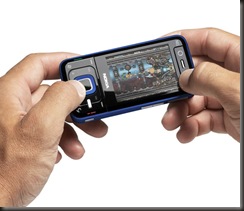 How many times have you suffered miss-pressing a button while playing a game? Directions keys directly above and too close to action buttons, too hard to control, and you always forget which is the fire button.
We've seen dedicated music keys, dedicated Internet keys, but with the release of the new Ngage platform, N81 has come to be the first Nseries that introduces dedicated gaming keys.

With 8GB memory, 2.4″ QVGA Screen and the integrated Stereo speakers and the new dedicated gaming keys, ngaging will never be more entertaining. I literally play games only because I like those keys, really thumbs up Nokia for that! Till now there is only a few number of game demos, I played them all and Creatures of the deep is the one that I like most. Most of the time when I'm playing it, some friend asks me "what are you doing?" I say "fishing", they go huh?
Anyway, a question must be asked: Are 2 game keys enough? Are all upcoming Ngage games gonna be playable using only 2 buttons? I have to mention that Fifa needs at least 3 buttons to be played. But as I said before there is only a small set of available games at the moment, and none of them fully utilizes the gaming buttons (excluding Fifa) so we can't really decide if 2 keys were enough.
One last thing to point out, volume keys and camera button are in good position for more gaming keys (if gonna be needed). Something like L1 and R1 in Playstation gamepad if you know what I'm talking about. This would serve for richer gaming experience.
Next to come: Why N81? >>>