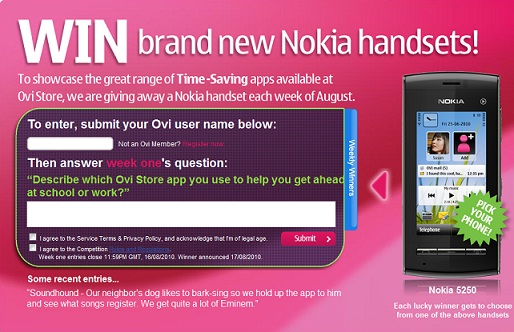 Unannounced Nokia 5250 S60 5th Edition at stake
Excited to win the Nokia X6 or X3? How about Nokia 5228 or 5233? Or do you like to get your hands on the unannounced Nokia 5250? Then get ready to fasten your seat belt as Ovi is giving away brand new Nokia devices! And each week of August to October is just a brand new opportunity to own these devices.
First you will need to have an Ovi account which I know that most of you have, if still don't have then hop to http://ovi.com for fast, free and easy set up. After that head over to http://promotions.ovi.com/ to enter the contest. Like I said, the rule is simple, just enter your Ovi account and then answer the ff question that they've given for the week. The task is also related to their Ovi Store contents. So each lucky winner will get to choose his own brand new Nokia devices X6, X3, X2, 5228, 5233 or the yet to announce Nokia 5250.