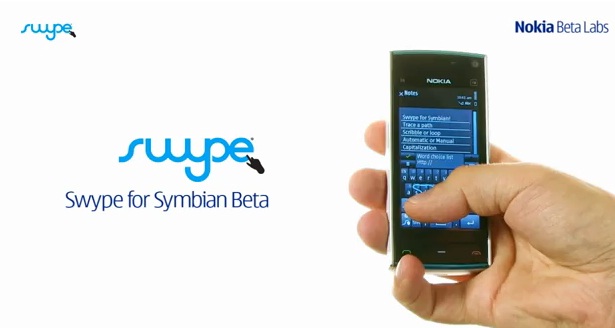 Heya swypers! It seems Symbian will be swiping a lot more compare to Dora starting today as Nokia introduced their first Swype application for Symbian devices. The Swype application is another means of inputting your text in faster and easier way. Or in simpler thought, it reduced and eliminates the use of tapping of many keys on your touch screen devices. The Swype app will support all input methods in your phones so getting all text inputs might be easier and faster now.

Key features

Standard QWERTY keyboard layout makes Swype easy to learn
Use a stylus or finger – Swype's amazing input path analyzer allows you to go fast and sloppy. Just make a reasonable effort to trace through the word and Swype will do the rest
Double Tap Editing – Make a mistake? Double tap on a word to bring up a list of other possible matches.
Auto-Spacing
Auto-Capitalization
Auto Spelling Correction
Automatic Help – Swype detects when you may be having trouble or might benefit from a particular feature and prompts you with helpful tips and instructions
Instant access to Symbols, Numbers and Editing functions
65,000-word Learning Dictionary – Chances are the word you are typing is already in the Swype dictionary. If it isn't, just tap it out once followed by a space and Swype will remember it for future use.
Currently the Swype App supports Symbian S60 5th edition Nokia 5800, Nokia N97, N97 mini, Nokia 5230, and Nokia X6. And Nokia X6 is the only current capacitive touch device of Nokia, so not sure on how this thing will play on resistive like the 5800. You can download the application from the Nokia Betalabs.
Download: Swype app from Betalabs (pls click)
Operating System: Symbian^1 or S60v5
Devices: Nokia 5800, Nokia N97, Nokia N97 mini, Nokia 5230, Nokia X6
Price: Free