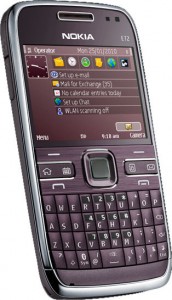 The enterprise/business smartphone, Nokia E72, just got an upgrade firmware to v051.018 which brings changes and improvements in different services and whole phone functionalities. Firmware v51 offers fixes of your office applications to enhanced social network apps. And from the previous software v31 to v51, the  update is a big leap for S60v3 users in the range of Nokia E72.
You can update the phone's fw through OTA (over-the-air), and NSU or Ovi Suite might followed these coming days. Although the E72 supports a User Data Preservation (UDP) it's still recommended to back up all data before upgrading.
Here's the changelog on the firmware update from blogs.forum.nokia:
Changelog:

Corrections or Changes :

Browser upgrade into 7.2.6
Freestyle Baseline 3.0 (latest version) update
QuickOffice upgrade into 6.2.439

New languages introduced, Office 2007 compatibility

OVI Music client Inc9Br5 update

Music 3.0: full album purchase, PIN less activation

Lotus Notes Traveller 8.5.1 update
Smart Connect 1.3.55 update
OVI Store 1.6 update
OVI Files widget 1.2.3.0 update

Removals

Improvements

New chat functionalities for the users
Microsoft Office Communicator added to vanilla SW UDA content
Nokia Messaging for Instant Messaging / Nokia Chat 2.0 added to vanilla SW UDA content
Improved Email, Calendar and Contacts experience
Performance improvements
Stability and usability improvements
Menu layout changes, among other things:

Maps moved to Main menu from Applications – GPS folder
Help moved from Main menu to Applications folder
Main menu re-ordered
SW update moved from Phone folder to main level of Control panel folder.
Facebook, YouTube, MySpace, Bloomberg moved from Internet folder to Applications folder

No changes to vanilla memory cards
Altogether 450+ errors are fixed.