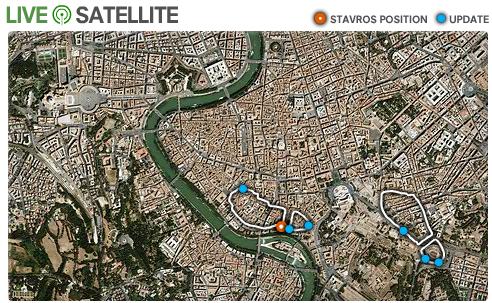 We have already reported about Stavros, master of Position Art, who is going to create a master piece in Rome today. And today the day has come for Stavros to create the best work of art. It seems that Stavros is using his N82 and the built in GPS to create kind of a picture by tracking himself.
Till yesterday, a countdown-timer was running on Stavros's homepage but now, on 14 of March, his "Stavros Bloggy" is available. He's live blogging from "The Great Event" straight away from his N82 Black ( I wished I have the N82 Black too). So, jump over and read his blog post and watch his latest videos. More over, you can see a map of Rome, in which the Great Event is taking part, and Stavros position. So you always know, where Stavros is and what he is going to create.

Yesterday I received some nifty "The World Is My Canvas" goodies from WOM World (thank you), maybe to promote Stavros in Germany but I think everybody knows him, he's a Position Art genius! Anyway the T-shirt looks great and the poster is preety funny. What do you think about Stavros, the Event and the goodies?