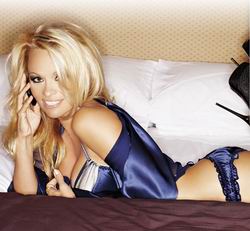 If Larisa Riquelme's 'Comes with Breasts' promotion is not enough to make you buy a Nokia C3 then you should think twice about the Nokia's new campaign to promote the Nokia N8.
The new campaign is all about promoting the Nokia N8 by making a film entitled The Commuter. The casts is not other than the Baywatch legend, Pamela Anderson joined by Ed Westwick from Gossip Girls. Whilst the main recipe of course is not with the two hot stars, but with Nokia N8 because the whole film will be shot entirely by the 12 MP monster that is capable of HD video recording. Filming will start on September 20 and will be directed by the McHenry Brothers.
And that's not all! There will be two lucky humans from UK to join these hot stars in the film, one is in the bed scene with Pamela, whilst the other scene is on elevator with Ed. You could visit www.starwithpam.com and www.starwithed.com and start grabbing those opportunities to meet, greet and play with your favourite stars.
But how do you think about this campaign of Nokia? Will it blend like on Larisa's E71 and C3 breasts comfort?