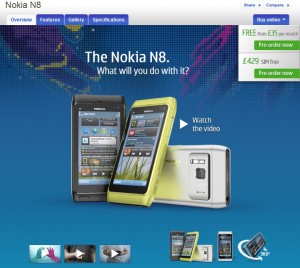 The much awaited Nokia N8 is finally hitting big countries in Europe and in USA for pre-orders. The date and the prices where already pinned on each pre-ordering site of these countries. As Nokia N8 will be available at the end of September, the prices, package contents, and the colours may vary depending on your region.
To those are in UK, you can get the N8 either unlocked at £429 ( €518 or $658 )  or you can get it free in contract at £35 for 18 months or 24 months subscription in many major carriers like Vodafone, Virgin Mobile, Three Mobile, Carphone Warehouse, O2, Orange, Phones4u, T-Mobile and Tesco Phone Shops.
Other regions in Europe already started the pre-orders for SIM free N8 at different prices. Whilst on the USA, price is $549 before taxes. Here's the short lists of prices of Nokia N8 in pounds, euro and dollars posted by Rafe at AAS.