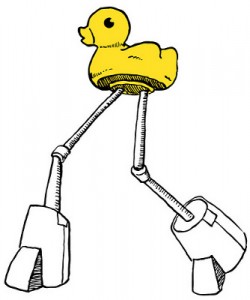 The latest comScore breakdowns of smartphones this July 2010 stats in EU5 was released. Mainly EU5 is composed of UK, France, Germany, Italy and Spain countries where most percentage of smartphone users resides here. With each country, they gathered the results of smartphone OS usage from their respondents and compared it with the US stats. And basing on the results we've seen (pictures below), it's still a good sign for Symbian and Nokia even though their shares has fallen 14.4% since July 2009 and they still managed to lead ahead against the big competitors out there like Apple iOS and Google Android. As of this year, still Symbian smartphone OS remains most popular in EU5 by on how the month of July reflects the outcome.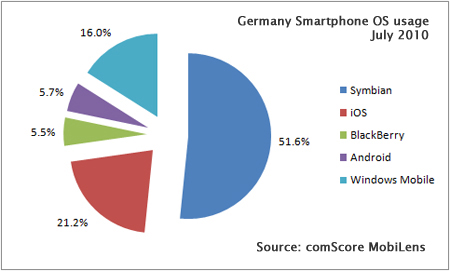 Results from Germany was quite different comparing it to the other 4 countries.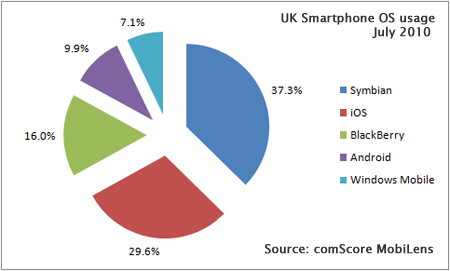 However, the UK and France have almost the same results with the stats having 37.3% for Symbian, and not surprising for iOS as it got 29.6%.
Both Italy and Spain results have seen to be more identical with great positive points for Symbian smartphone OS usage showing almost 2/3 of the entire usage.
Read more on mobile-ent.biz