3001 Wisdom Quotes – Quotes of your lifestyle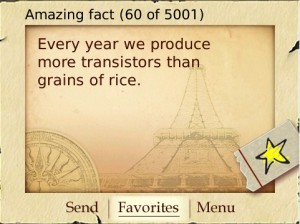 Today the idea of "quotes" captures the apps world. We see different variations: quotes of famous personalities of backward and present, of definite time period, the nowadays celebrity and so on. It's just a matter of time and we'll discover various exciting combinations – mixes of different categories. For example, "300 quotes of Steve Ballmer", "599 quotes when starting acquainting in Social Networking" and so on.
But traditional collection is always profitable. So, to keep up with today's currents trends XIMAD released "3001 Wisdom Quotes" at OVI Sore. It's great that fans of the category observe this app both in touch and non-touched versions / Symbian S60 5th edition and Symbian S60 3rd edition.

The app is packed with great graphics and features:
Images and links to author's profiles on Wikipedia
Random "Quote of the Day" with a push of a button
Lite version offers 100 quotes, while full version has over 3000 hand-picked quotes
Favorites, Keyword Search.
Try a free version: http://store.ovi.com/content/30059
Full paid content link for 3001 Wisdom Quotes: http://store.ovi.com/content/20948
5001 Amazing Facts: Fun with your beloved
Want to know more about everything and not to waste too much time for discovering it in endless libraries or surfing the deep spaces of our favorite Wild Wild Web? Do you think it's impossible? No! One of the best solutions for this very problem is rather simple – you even ought to find the most appropriate your taste application for your favorite Nokia device.
One of the nice apps of this very trend is 5001 Amazing Facts from XIMAD. First of all–about the text content. Are you aware of the fact that every day more money is printed for Monopoly than for the US Treasury? And do you know that people say "Bless you" when you sneeze because when you sneeze, your heart stops for a millisecond? Such amazing facts you may discover just looking through the application. The 5001 Amazing facts data is rather simple to be remembered for using as a fun element. For example, just having a weekend picnic with your dears and nears or in a corporate party with your colleagues you always can entertain everybody just by presenting some interesting facts from the app.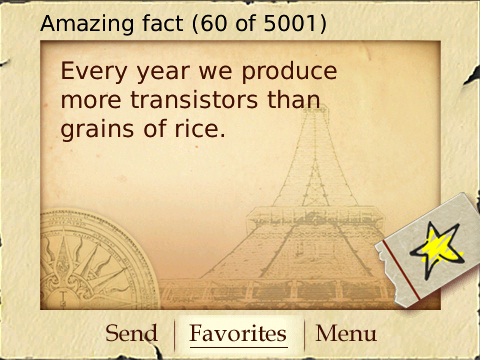 Rather clear interface of 5001 Amazing facts will help you to get used to this product rather quickly and easy. The main menu gives the following opportunities as: Start from the beginning, Start from the last slide, Favorites, Search, Settings, Send and Quit. E.g. the "Start from the last slide" is very convenient especially when being interested in something else (you want to go to the main menu to turn on\off music or save a fact as a favorite one) and than come back to the very last slide you've being viewed there. And "Favorites" – it'll be of a certain help from two sides. First of all – it's a great tool for memorizing the data. You have only to draw up a list of facts and just to view it several times a week – and that's it. Bingo! You're becoming as wise as Einstein. Second, you also create a special list of your real favorite facts and you'll be a real intellectual star of every meeting with this stuff. And at least "Search" option – rather easy-to-use to helpful arrangement for quick digging for the special needed information on a special theme. E.g. on typing  the word "love" – you'll gain a splendid selection of love confession in all languages and possible dialects even Nebraska and Sioux.
Try free version: http://store.ovi.com/content/30058
Full paid content application: http://store.ovi.com/content/22357