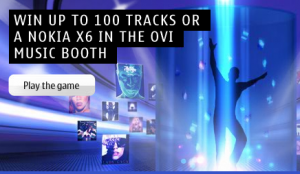 Get a chance to win a Nokia X6 and free Ovi music tracks downloads from Nokia UK Ovi Music Booth competition. So all you need to do is head over to the virtual booth at  or you could visit the booth at Bluewater, UK, and start grabbing tickets as many as you can.
The numbers of free tracks to win depends on the quantities and types of tickets you collected. Both booths have 3 types of tickets with different points. So more tickets means more chances of winning more Ovi Music tracks.
After winning tickets you could then redeem your music vouchers and download your favourite tracks from Ovi Music with more than 7 million MP3 tracks to choose from and from over 400,000 artists. You'll be in with the chance to win Nokia X6 after you redeemed your vouchers.There will be eight (8) Nokia X6 to be included in the raffle each week.
The competition starts from October 9 to December 11, 2010 and it's only open UK residents, but feel free to try their virtual Ovi Music Booth.