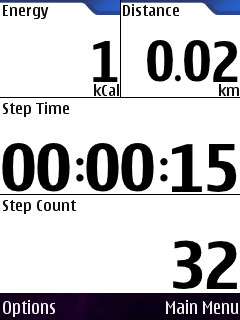 After Sports Tracker, Maps 2.0, Location Tagger and some other application the folks over at the Nokia Beta Labs just developed a new great application – Nokia Step Counter.
What is Nokia Step Counter?
Ever wanted to how much you walk or run as you go about your daily life? The Nokia Step Counter not only counts your steps, it also determines the distance you have covered and your energy expenditure. You can even compare your activity levels on different days by looking up the summaries stored in a handy diary.
Want to know how it all works? Your steps are measured by analyzing the output from an accelerometer in your S60 mobile device. All you have to do is carry your phone around with you whenever you move, for example in a pocket of your clothing, attached to a belt or your upper arm, or in a handbag worn over your shoulder. Nokia Step Counter just runs on the Nokia N95 8GB, N95 and the N82.
However, there are still some issues you should bear in mind:
1. Height and weight must be entered in cm and kg regardless of whether Metric Units is chosen in Settings -> User
2. If the scheduler is disabled and the Step Counter is run past midnight statistics might be incorrectly allocated to different days
Source: Nokia Beta Labs