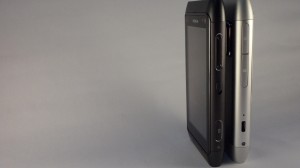 And finally we got a Silver White Nokia N8, to be exact, for a comparison against it's Dark Grey Nate or 'N8'. What's more is we included the Nokia E52 which is in grey and the N97 mini which was once the sexiest Nokia until Nate was launched. Sounds so biased but take a look on the sexiest phone that was announced on WOMWorld.
The specific sexiness of N8 is on the anodized aluminium casing against a stainless steel back cover of  N97 which is on a comfy plastic detail with shiny bezel. Akin to N8 is the Nokia E52 which also have been designed with metal accent and a stainless cover at the back.
You're only task, people, is to whether tell us on which do you prefer, a Silver White Nokia N8 or Dark Grey N8 or a White N97 mini or an E52 that is on grey.
You are free to use all the images above as long as you don't claim as your own and please do give credits to me or  to SymbianWorld. 😀 Thanks.