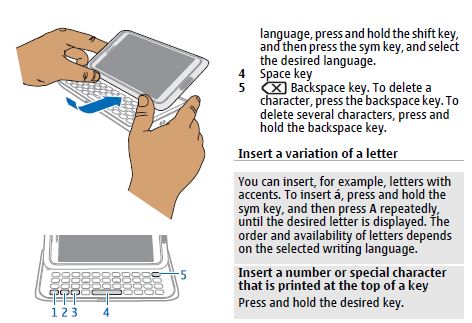 All phones should passed the FCC before hitting the market, and so, manuals too have the same product processes. And we should thankful to FCC for hooking the user's manual on Nokia E7's check-up at FCC before it is available on market this 2010.
For future users of E7 there, that are so excited on getting your device, you can download the manual by clicking here with 26 pages in English. These 26-page manuals includes the detail of the new features on E7 which below I put some important highlights.
Here are the few handful tips that I grabbed from the Nokia E7 user's manual referring to the four-row QWERTY keyboard shortcuts:
Writing
Ctrl + A ==> Select all.
Ctrl + C ==> Copy text.
Ctrl + X ==> Cut text.
Ctrl + V ==> Paste text.
Shift + Sym ==> Change the writing language.
Email
A =  Reply to all.
C  = Create a new message.
D = Delete a message.
F = Forward a message.
O = Open a message.
R = Reply to a message.
Z = Synchronise the mail account.
Ctrl + S = Save a message in the Drafts folder.
+ Zoom out.
# Zoom in.
Flashlight
To switch the flashlight on or off, slide and hold the lock switch for two seconds.
The flashlight can only be used when you are in the home screen. You can switch the flashlight on also when you are in the home screen and the keys and screen or the device is locked.
So are all getting more excited with E7? 😀
FCC User's Manual Source