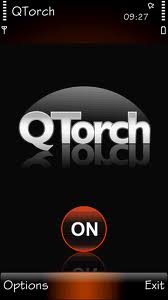 The Nate or the N8 doesn't have the LED lights for still images and video support but it has the most advance flash for cameras, the Xenon. But when we are talking of what Xenon can't do, the flashlight tools is missing. But don't worry now 'coz the AMOLED, Flashlight touch and Qtorch will solve it all.
There are two apps which I consider great in giving light during brownout or in the event of shorted of light. First is the Qtorch for N8 and lastly the Flashlight touch which already existed from many S60v5 devices.
QTorch – A simple application that you could use as remedy to flashlights on your N8. With just simple tapping on the screen for off and on, then you're good to go with white screen.
You can download the app here.
Flashlight touch – Another flashlight app that uses the screen's brightness. But with this app you can actually blend and create colours that you prefer.
Download the app here.