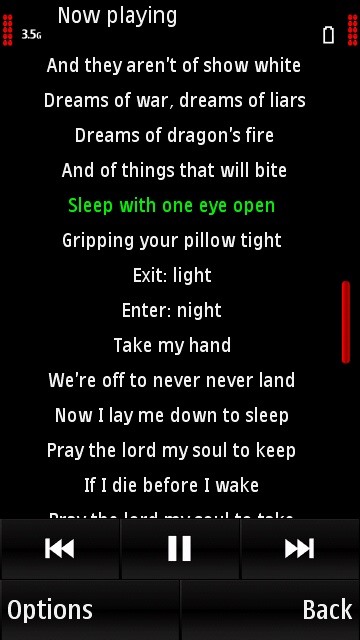 Nokia recently released some small software updates to Nokia 5800XM, Nokia X6 and Nokia 5230. The update brings some small changes yet it's already a big Christmas treat for those who are looking for lyrics integration to Symbian's default Music Player.
So how does it work?
Go to Now Playing in music player and next to Options and enable the lyrics mode.
Your mp3 or songs should have an embedded lyrics on it. Most songs do not have that, but many free software that you can use are available on the internet. Examples of that are Media Monkey, MiniLyrics etc.
Another way to embed lyrics is to make the same folder for .lrc file (lyrics) and .mp3 songs. Put them on the same folder with the same name but with different file type for example Billionaire.lrc and Billionaire.mp3, and after that the Music Player will read it which you can enable the lyrics.
If you have other tips or tutorials please share on this article. Thanks!
Software / Firmware version of devices that packs with this Lyrics feature update:
How to check for updates?
Go to Menu > Applications > SW Update or type *#0000# in home screen and select check for software updates. You need to be connected to a WiFi or 3G in order to check for updates.