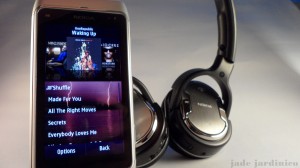 Let me first briefly discuss what is ANC all about base on my own understanding on the said technology.
ANC stands for Active Noise Cancellation. It's an innovation that you could find on latest high-end Nokia devices. ANC works through suppressing the background or undesired noise during call on phones or on stand-by headset creating clearer and more efficient communication.
In a deeper definition, ANC is possible because of the hardware solutions, dual microphones. Which both mic works by amplifying the audio frequency for input (background + subject's voice) and filtering the undesired noise like background noise before transmission to channel.
The ANC that was used on Nokia BH-905i headset is similar to phones' ANC like on Nokia N8. But on phones' ANC, it only activates during voice sessions like calls. Nonetheless, this technology is very efficient in both technologies and other communications system.
*HD Voice (ANC + Network)
I'm quite late about this HD Voice thingy but it's still worth to discuss about as it is relative with ANC, too.
HD Voice is the transmission of amplified audio frequencies (calls), gathered or created by ANC-capable and non-ANC capable devices but with newer hardware microphone functions like X6, and submitted to receiver or subject. HD voice transmission is only possible through HD voice enabled network like Orange UK. And HD voice calls gathering are possible in HD voice enabled phones like X6 and ANC enabled like Nokia N8.
So in short, No HD voice network means no HD voice transmission and No HD voice enabled devices means no HD transmission via Network.
*ANC vs non-ANC devices but with HD voice functions
This part is quite baffling but I will try to discuss this on a more understandable.
We know that HD voice is possible because of 1.) HD voice Network 2.) HD voice enabled devices 3.) optional but very essential, the ANC.
1.) HD Voice Network – This is the communication system used in order to send HD voice calls to another line or point.
2.) HD Voice Enabled Devices – Yes, HD voice is possible even without ANC but with more high-end hardware functions (filtering, microphones etc), but without background noise suppression.
3.) HD Voice + ANC enabled devices – This is optional because there are only few handsets that have ANC support like Nokia N8, C7, E7, C6-01, BH-905i headset etc., but of course, this option is very essential for truer and clearer HD voice gathering. This is where effective HD voice comes in.
Currently there are wide Nokia devices that supports HD Voice: Nokia N8, E7, C7, C6-01, 5230, X6, X3-02, C3-01, C6. Others are also enabled most likely the new devices.
Some HD Voice networks:
Orange – UK, France
T-Mobile – Germany
SFR – France
Note that HD Voice currently doesn't work on non 3G and 3G+ signals but expect to have more HD voice networks and signal supports in future.
Demo of HD voice is found below, note that Nokia N8 (ANC capable) and Orange as the network. Video via NokConv
So are you an enabled HD Voice user too?
Nokia 101 and Symbian 101 Project
-Jade Bryan Jardinico