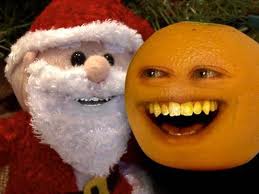 Before the year ends, Nokia had their holiday greetings through video where Annoying Orange appeared. In case you don't know Annoying Orange is, well, he's an icon in youtube now due to his awesomeness fellah!
So right after 2010, Annoying Orange will somehow greet us a mischievous New Year treats in Ovi by January. And that's why some of us are excited on what will this orange will bring to us. Whether its a move for pushing "Apple" away or just a generous Nokia's presents to us.
P.S.
Happy Holidays to All!