Route 66, one of the most famous navigation solution for the mobile handset, is available in version 8 now. The really kind Route66 Support provided me with a free version of Route66 Mobile 8 and the DACH (Germany, Austria and Switzerland) maps. Let's check how good it works:
Sales package: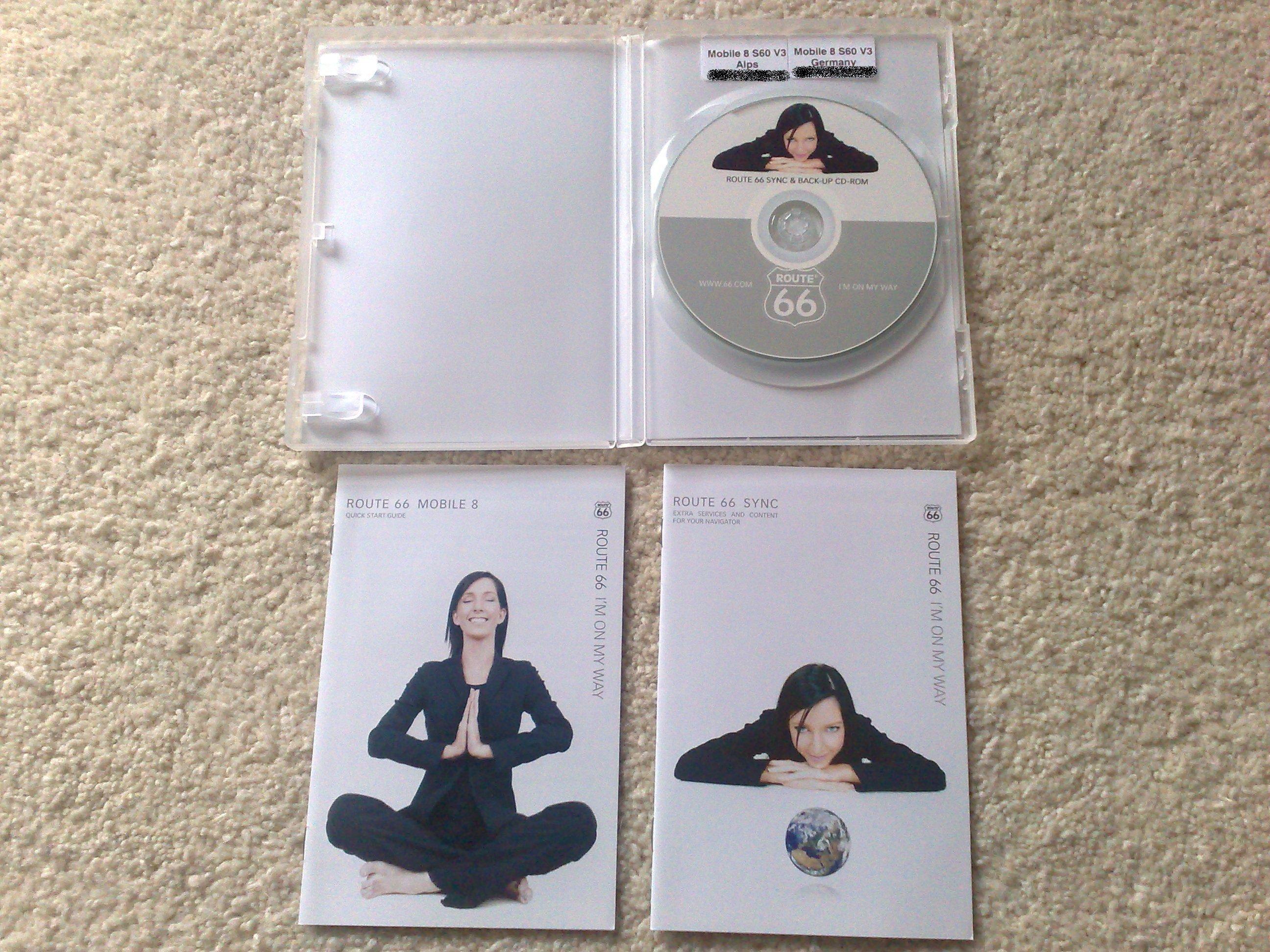 The sales package includes:
A CD/DVD with the navigationsoftware, maps and manuals
Route 66 Mobile 8 – Quick Start Guide Manual
Route 66 Sync – Extra Services And Content For Your Navigation Manual
Installation:
The Route 66 Mobile 8 and the whole map content are already on the CD/DVD. Once you insert the CD/DVD into the PC the Route 66 Installer opens up and you can start transfer the maps and the sis file on your handset. It's really easy and everything is explained really well. Unfortunately, you have to delete all content from your memory card in order to get the sis file. Therefore I advice you to save everything on your computer before doing this. After the installation you're ready to use Route 66. You can find the Route 66 Mobile 8 icon in its own folder called ''Route66''. After the splash screen and some question appeared Route 66 tries to find your current GPS position and tries to zoom right to the place you're currently located.
Navigation:

To start an new route just hit ''1'' or hit the left softkey and than ''Search''. You can choose between six different search modes:
Free text
Address
Nearby: eg. Attractions, Parking, Shopping and more…
History: your results until yet
My landmarks: Select your Homeaddress, Office or create other landmarks for even easily navigation
Contacts: Search addresses out of your contactbook
Once you've found the right address you can decide what you want to do with this address/place. So you can:
Show on map
Navigate to
Add to route
Save
Sent
Map display
After you set your destination and you have a connection with enough GPS satellites you can start the navigation. Of course you can save routes so that you can use them also afterwords. In the test using my Nokia N95 it worked pretty good and navigate me good to my destination, whether with the car or by feed. During the navigation you can choose between three different layouts. More over, you can choose between night colors or day colors, or choose between 2D and 3D perspective.
As you can see, you can get informed about your current speed, your current position, expected arrival and a bunch more.
If you turn into a wrong street or you miss a street the software recalculates the route immediately and gives you a new route or the best way to turn around.
GPS View:
By hitting ''5'' you will find some GPS information with four subfolders. These GPS information are giving you information about your current position, speed, altitude, and some more.
Shortcuts:
To easily switch between different view modes, see the GPS status or listen to the latest announcement you just have to hit a special key. So, you don't need to make 5 clicks.
1 Search
2 Change layout
3. Change between Day- and Nightmode
4 Progress bar
5 GPS View
6 Switching between 2D and 3D
7 Search
8 Zooming to whole card
9 Volume on/off
0 Repeat of the recent driving instruction
* zooming in
+ zooming out
Verdict:
To put in a nutshell, Route 66 is a great navigation solution for your S60 device for a good price. The tested version costs about 60€ which is indeed a good price. Unfortunately, you can use just one device per license, which I can understand but otherwise some people change their devices every month. But all in all Route 66 is worth having on a device.