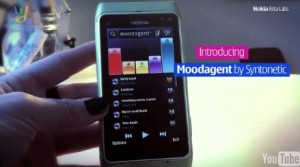 Do you believe that Nokia N8 is the current multimedia smartphone king out there? Me? I'm definitely sure it is!
Nokia N8 is just the best music bud right now. I'm so hooked up with it. And also thanks to the playlist, stereo sound and music apps I have. So I'm sharing my best music apps that I got from Ovi Store and BetaLabs below. Don't forget to share your favourite music apps too!
TuneWiki – This is app is definitely my all time favourite music app. Having lyrics in your songs is so fun. You'll always enjoy singing, stuttering, and murmuring every words and beats that your tracks have.
It's a free app that you could get from Ovi Store.
Moodagent – Another music app that you will surely enjoy is the Moodagent. It's a music app when you got bored, sad, happy or moody. Just slide the bar of different emotions and you will definitely get the best playlist that is right for your mood.
Details on how to download Moodagent is here.
MusicStopper – Everybody loves listening to music before they sleep. So that's why I have this app to ensure that every time I hit the play button of my music player or app, my phone's battery will not be wasted when I'm already in dreamland.
Download MusicStopper from Ovi Store.
That were my favorite music apps in my N8! How about yours?