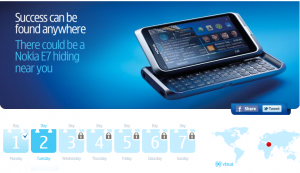 Be the first to own a Nokia E7 by winning the latest competition brought by Nokia and Ovi to its fans. The #NokiaSearchfor7 competition kick-off yesterday with the first invasion of E7 starting in Helsinki and more to different cities around the globe for whole week.
All you need to do is spot and be the first person to tell and share exact map on where E7 is hanging around. Each day starting yesterday 'til Sunday, Nokia is giving an E7 each day for the first person to share the right location to @WOMWorldNokia via tweet with maps link (ovi maps in phone or web and with the hashtags of #NokiaSearchfor7.  They are also giving 3 clues on each day for you to find out easily.
More details on how to join the competition is here.