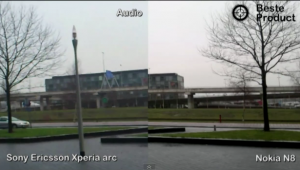 Nokia N8 is the latest multimedia flagship smartphones that boosts with 12 MP AF camera with Carl Zeiss optics and Xenon Flash. It's also dubbed and proven to be the best camera phone up to date and beating some point and shoot digital cameras in hardware specs, mainly the sensor.
In order to know more about its prowess we should put a test on it comparing with other latest device. So, below is another video recording comparison of Nokia N8 vs Sony Ericsson Arc in High-Definition (720p).
Watch Apple iPhone 4 vs Nokia N8 video shoot-out here.
N8———–vs ———-Arc
12 MP AF Carl Zeiss, Xenon Flash —– 8 MP AF LED flash
720p @ 25fps  —————————- 720p @ 30 fps
Geotagging: Yes ————————–Yes
Sensor: 1/1.83″ sesor size CMOS ——- Exmor Sensor
So what do you think of the comparison? Did N8 pawned Arc on video quality test?