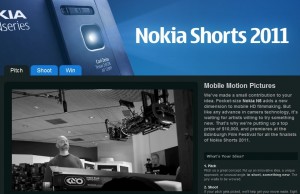 Nokia is pouring some big competitions to promote the HD world of mobile phones. One of the related competition was the Nokia N8 Producers and now it's another HD promotion plus competition blend for film makers and alike. Find out more after the break.
The new competition is called Nokia Shorts where talented and skilled people will have to get a chance of winning a big pot of money and a chance to produce a real short film.
So if you're interested on getting some high-def experience, all you need to do is submit an idea or pitch of your short film. This pitch is in form of video in less than 2 minutes and text explanation of 100 words maximum. And if your vid is included on the top 8, you will receive a $5000 budget and 2 Nokia N8s in order to made your pitch into a real short film. Plus the lucky 8 winners will be at the Ediburgh Film Festival for the premier.
And that's not all, because if your film is the best final one, you would receive $10000 worth of cash!
So visit Nokia HD's vimeo for more info.
Nokia Shorts 2011 Trailer from Nokia HD on Vimeo.