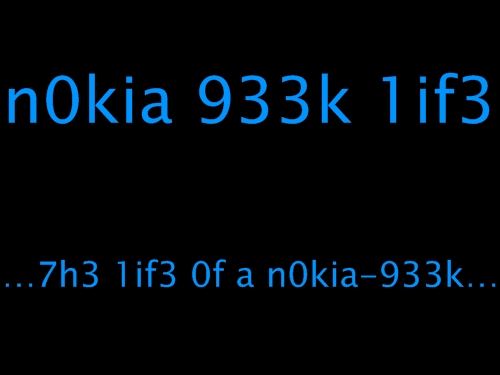 It's about one year by now since I started blogging here on Symbian World. In the beginnings I haven't known much about blogging, I just wrote down the news and searched for a suitable picture for the post. After a while I got more and more interested in the subject "blogging" and so I started to write my own articles and reviews. Starting with applications for S60 after a while I ordered my first trial device from WOM World/Nokia, the N95 8GB. Since that day I got more and more involved in the S60- and Nokia-scene.
Sometimes I feel like writing also about other things than Nokia and S60, like about technical gadgets and computers or my personal live. Because this blog is a Symbian-blog I can't do this here, so I started my own blog called "Nokia Geek Life". I will not stop blogging on Symbian World, but I will write my articles parallel here and on Nokia Geek Life.
You can find my new blog here. As you maybe noticed the URL of my blog is written in 1337. I have done this because it looks a little bit "geeky" and so it fits very well with the subject of Nokia Geek Life. On one hand a positive aspect of this URL is that you won't forget it that fast because it's very special. On the other hand it's very hard to keep the spelling of the URL in mind so maybe you should bookmark it.
The design isn't final yet, If I have time and ideas I will make another header and create a logo for it. I would appreciate if you take a look at my new blog and leave a comment about it.
www.n0kia933k1if3.wordpress.com
Thank you,
Christian Titze