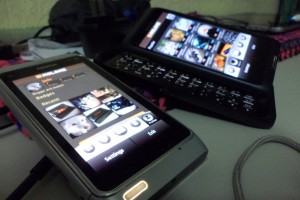 Just MOLO to be exact. But if you already get used to Molome then it's fine. Or whatever Molo nickname you have. 
MOLO.me is the latest social app that brings fun and new experience for your mobile devices. It primarily offers you to share your great moments to social network mobs like your friends and families. Like after taking your shot using the app, you could then add MOLO effects to it and then it's ready for sharing. Simple as three steps!
It currently has 16 effects aside from Normal, noting Tilt Shift and RGB filter as the favourites of some. For AF camera capable like N8, it will support close up or macros too. Other from that, the app is fresh and new yet you will see and experience many features from it.
You can download Molome from Ovi Store for free. You can then register right from your launched installed app or through molo.me site.
P.S. You can add my molo by searching my username, jade. See you there molo-ers! 😀